UPEI Panther and Acadia Axeman team up to raise funds and awareness for multiple sclerosis
At their game on January 28, the two players will present a cheque to the MS Society of Canada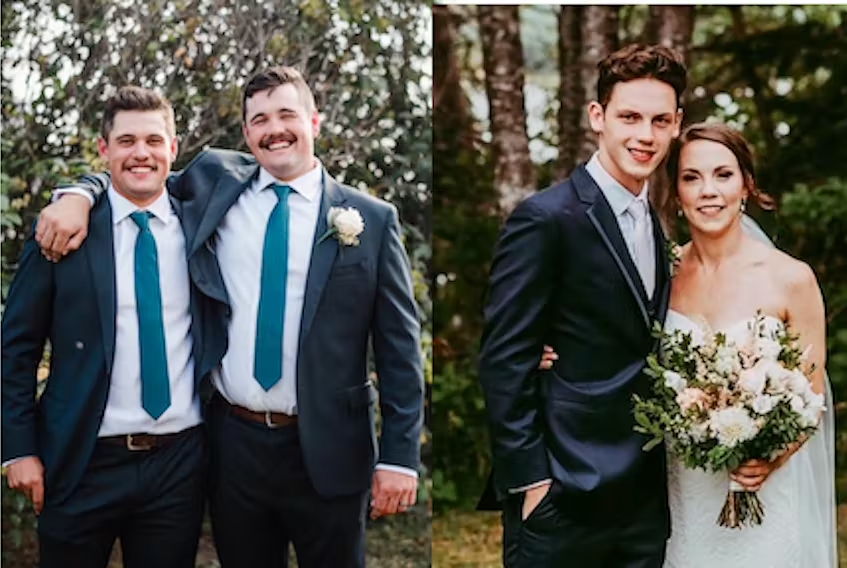 Carson MacKinnon, UPEI Men's Hockey Panthers forward, and Jack Flaman, captain of the Acadia University Axemen, are hosting a joint fundraiser for multiple sclerosis (MS) in support of their siblings.
A love of hockey first brought the two together as teenagers in Wilcox, Saskatchewan, and now, even though they play for competing hockey teams in two provinces, they are teaming up to raise funds and awareness for the cause that has touched both of their lives.
On January 14, Acadia hosted UPEI in Wolfville, Nova Scotia, where donations were collected. The Panthers will host the Axemen during Alumni Weekend on January 28. Donations will again be collected, and the two players will then present a cheque to the MS Society of Canada at the game. Online donations can also be made to their fundraising page, AUS Men's Hockey Challenges MS.
MacKinnon's sister, Emily LeBritton, was diagnosed with MS in 2018 and Flaman's brother, Michael Flaman, in 2020. After a hockey game in November, 2022 MacKinnon and Flaman asked each other about their siblings. The two players continued the conversation over the days that followed and decided to work together to raise funds for MS.
MacKinnon said his sister, 29, lives in Edmonton with her family. He was happy to share the news of the fundraiser with her and the details of what he and Flaman were planning.
"It was special," he said. "Once it came out, she saw the support right away. It's a special moment for my family and Jack's family, and we're excited with how well it's going so far."
The players agree that it has been great to play against and reconnect with each other through Atlantic University Sport.
"Once you hit the ice, friendships go away, and you're all out there to try to win a hockey game," Flaman said. "But at the end of the day, there are bigger issues in life, and we're just happy to do something together and hopefully make the world a better place."
MacKinnon and Flaman said they are very appreciative of the great support they have received from their teammates, coaches, and communities. To date, over $5,000 has been raised of their $10,000 goal.
MS is a chronic autoimmune disease of the central nervous system that can affect vision, memory, balance, and mobility. Currently, there is no cure. Canada has one of the highest rates of multiple sclerosis (MS) in the world, with an estimated 90,000 Canadians living with the disease. On average, 12 Canadians are diagnosed with MS every day. Most people are diagnosed with MS between the ages of 20 and 49, and the unpredictable effects of the disease will last for the rest of their lives. For more information, visit mssociety.ca