Ashley McCutcheon and Elijah Miller named UPEI Panther Subway Athletes of the Week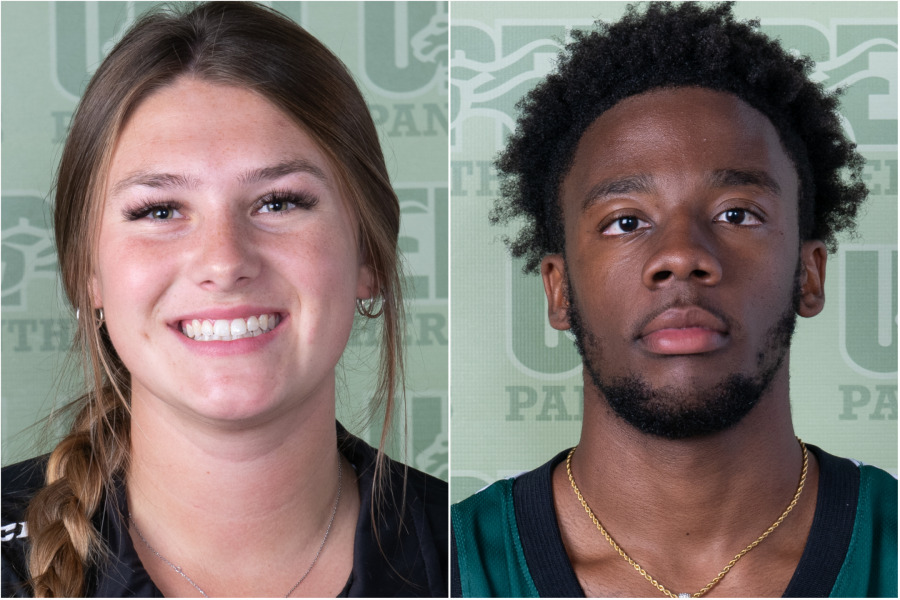 Every week, UPEI Athletics and Recreation recognizes two student-athletes for their achievements and contributions to their respective sports. The UPEI Panther Subway Athletes of the Week for January 16–22 are Ashley McCutcheon (women's hockey) and Elijah Miller (men's basketball).
A business student from Kitchener, Ontario, McCutcheon was pivotal in the Panthers' 3-2 overtime win against the St. Francis Xavier X-Women, one of the country's best women's hockey teams. The sophomore forward scored the tying goal late in the third period to send the game into overtime and then scored the game-winner.
"Ashley had a really good weekend. She was engaged, skated well, and showed great determination and resiliency in her play," said head coach Sean Fisher. "Her 200-foot game is rounding into form at the right time of year, and I'm glad she was rewarded with a couple of goals Saturday night."
Miller, a UPEI men's basketball point guard from Rexdale, Ontario, averaged 21.5 points on 42.3 per cent shooting and 4.0 assists in two road games against a tough St. Francis Xavier University squad. After Friday's loss, the third-year business student shone in Saturday's game. Miller willed his team to a 76-71 victory, scoring a game-high 30 points.
"Elijah pulled off a sensational game on Saturday," said head coach Darrell Glenn. "He played the entire game and led our team on both sides of the ball. As impressive as he was on offence, his focus, discipline, and effort defensively late in the game were what helped our team pull out the win."
Go Panthers Go!