This News Story is more than 1 year old. Links and contact information may have changed.
UPEI celebrates eleventh annual MacLauchlan Prizes for Effective Writing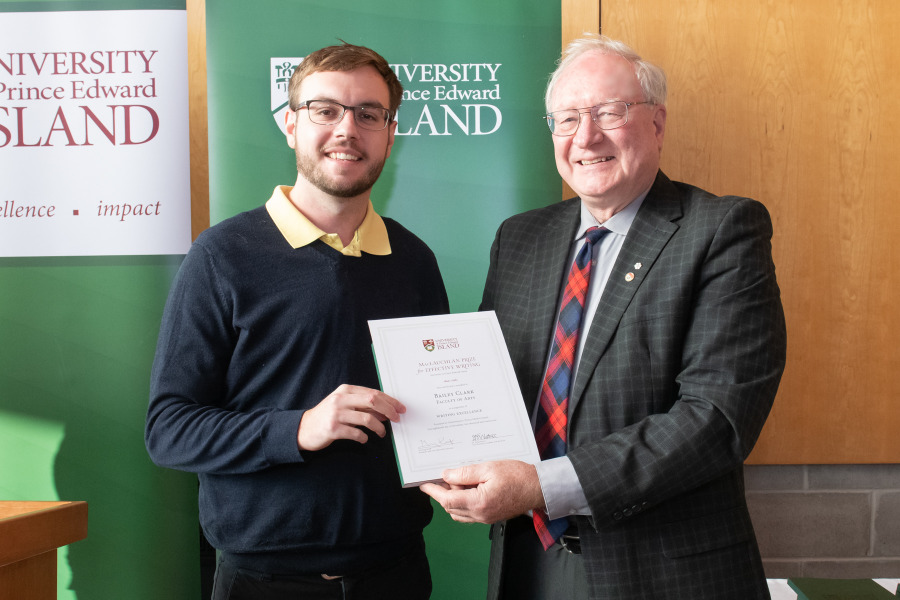 UPEI celebrated the MacLauchlan Prizes for Effective Writing on Friday, November 18. This was the 11th year for the awards, but the 9th for an in-person celebration and the first one since 2019. The awards were presented to recipients, acknowledging their effective writing skills - a foundational skill for academic success and lifelong learning.
The awards, presented to 36 students and one faculty member this year, were established in 2011 by the MacLauchlan family to honour H. Wade MacLauchlan's contributions to the University and his 12 years of service as UPEI president and vice-chancellor from 1999–2011.
"Effective writing is foundational to success in our society," said Dr. Greg Keefe, UPEI interim president and vice-chancellor. "On behalf of the entire UPEI community, I thank the MacLauchlan family for their generosity and President Emeritus Wade MacLauchlan for his commitment to encouraging excellence in writing among our students, faculty, and staff at UPEI."
UPEI's vice-president academic and research, Dr. Greg Naterer, acted as the master of ceremonies for the event.
"Congratulations to all students who have received these MacLauchlan Prizes for Effective Writing. These students have created exceptional written work, or have shown substantial improvement in their writing skills," said Naterer. "Special thanks to faculty and staff members who have contributed to the development of these writing skills."
Bailey Clark, a Faculty of Arts student and an award winner, read an excerpt from his piece entitled "Who Wants a Car, Anyway?": Improved Roads, Snowplows, and the Transportation Revolution on Prince Edward Island, 1900-1970.
"Writing my honours thesis gave me a great sense of purpose—here were some of my fellow Islanders who may no longer be with us but whose challenges and achievements I could give a voice to," said Clark. "The long process of learning about my topic, digging into the primary research, and presenting it in an honours essay took a lot of effort, and, throughout this journey, I grew as a writer and a person. This project has meant a lot to me, and I was pleased to share some of it with others at the awards ceremony."
Faculty of Nursing student and award winner Adedamola Adedeji also read an excerpt from her piece entitled Providing Person-Centered Care for Older Adults.
"I didn't expect to win knowing how many people might have submitted their work. Then being selected to read my paper in front of prestigious people, professors, and students meant everything to me," said Adedeji. "I feel empowered and encouraged to always put in my absolute best in any academic work because it surely will pay later on."
Retired journalist and author of four books, Gary MacDougall, was the event's special guest speaker. MacDougall spoke to the crowd about his long career in journalism, his personal journey as a writer, and the importance of writing as an effective skill for success, regardless of what profession a person chooses.
The MacLauchlan Prizes for Effective Writing distribute up to $30,000 annually in awards. The family has made previous contributions to the Harry W. MacLauchlan Scholarships in Entrepreneurial Leadership, MacLauchlan Arena, Robertson Library, athletic scholarships, and student prizes in mathematics and entrepreneurship.
The following are the recipients of a 2022 MacLauchlan Prize for Effective Writing in one of three categories: Course Work, Faculty and Staff, and Webster Centre for Teaching and Learning.
Course Work
Abbey Morice, Faculty of Science
Aidan Campbell, Faculty of Arts
Akila Thomas, Faculty of Arts
Amara Sánchez, Faculty of Sustainable Design Engineering
Austen Clayton, Faculty of Arts
Camille Mady, Faculty of Business
Chris Murphy, Faculty of Business
Bailey Clark, Faculty of Arts
Elias Doherty-Kirby, Faculty of Arts
Emma Doucette, Faculty of Science
Heather Keoughan, Faculty of Arts
Larissa Storey, Faculty of Arts
Laura Apblett, Faculty of Science
Lauren Rainford, Faculty of Arts
Lily Greenan, Faculty of Arts
Lily Lévesque, Faculty of Arts
Madison Walsh, Faculty of Arts
Maggie McNeil, Faculty of Business
Mallory Travis, Faculty of Arts
Minjoo Kim, Faculty of Nursing
Negin Amou, Faculty of Science
Nicole Kelly, Faculty of Nursing
Promit Das, Faculty of Science
Rachel Barich, Faculty of Science
Raylynn Brown, Faculty of Science
Sabnam Gurung, Faculty of Arts
Tess Ney-Filomeno, Faculty of Science
Theodora Bujenita, Faculty of Science
Thomas Haslam, Faculty of Arts
Vera Kirk, Faculty of Arts
Faculty and Staff
Ashley Clark, Faculty of Education
Webster Centre
Adedamola Adedeji, Faculty of Nursing
Catherine-Lynne Curtis, Faculty of Arts
Jude Ezugwu, Faculty of Business
Megan Downe, Faculty of Nursing
Niki Pozidi, Faculty of Nursing
Syed Zohair Ali Rizvi, Faculty of Business