Straight Arrow Truth and Reconciliation Awards presented to UPEI students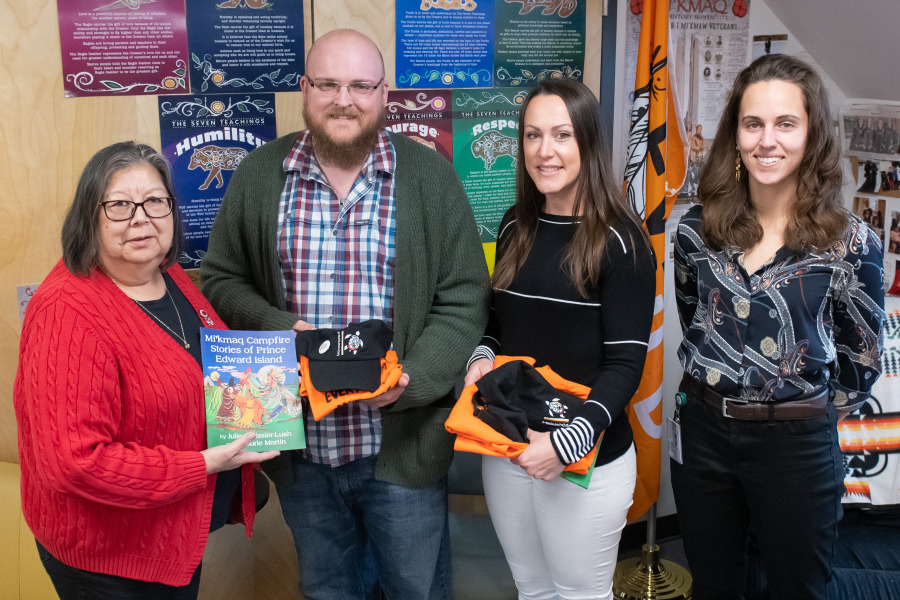 A presentation to the 2022–23 recipients of the Straight Arrow Truth and Reconciliation Awards took place in the Mawi'omi Indigenous Student Centre at Dalton Hall, UPEI, on Tuesday, November 1. This year's recipients are Nicole Lodge and Will Abbott.
The Straight Arrow Truth and Reconciliation Awards are named after the 2021 Literary Award-winning book, "The Chosen: Straight Arrow-Ann Without An E," the first book in Canada that focuses on Truth and Reconciliation superheroes. Two $1,000 scholarships are given out annually; one to a UPEI student who identifies as Indigenous, and the other to a UPEI student who is an ally and who may or may not identify as Indigenous. The award was created two years ago by Michael Sima, a Mi'kmaq graduate of UPEI. He created the award in conjunction with the UPEI Student Union to recognize individuals who promote truth and reconciliation in the province.
Lodge is a member of the Métis nation, British Columbia. She holds an honours Bachelor of Social Work (BSW) degree with a First Nations specialization, and an honours Master of Education in Multidisciplinary Leadership degree, both from the University of Northern British Columbia. Lodge will graduate from UPEI in 2023 with a Bachelor of Education degree with an Indigenous specialization and plans to continue her passionate work around equity, inclusion, and identity.
This summer, she created a bilingual Indigenous children's book with the help of Métis Elder in Residence Stella Erasmus Johnson from Vancouver Island University. Titled Sapo Miskîsik, wa Ohci Atim: Through the Eyes of a Dog, the book includes a full Michif translation and promotes equity, inclusion, and identity concepts. Michif is one of the national languages of Métis.
"I feel like there's a need for Michif books, and I just want to be able to give back and provide that opportunity for any younger Indigenous children who may be struggling with their identity or culture, to have a resource to jumpstart that, or just initiate that spark, that wanting to learn more," said Lodge. "Métis, for me, is the celebration of being attached to different cultures. I want to celebrate everyone's visible and invisible differences. As a social worker and future educational leader, I plan to build that missing attachment piece by remodeling what a strong independent Indigenous female can look like." 
Abbott, from Niagara Falls, Ontario, is also an education student at UPEI. As a student of history, he is saddened to realize how students in general have not been taught the true history of Canada and he is determined to teach his students about truth and reconciliation.
"This is a disservice to all Canadians, and I plan to remedy it as much as one teacher can. I have and continue to educate myself through books and personal experiences with First Nations' culture," said Abbott. "We must learn from history, the true history, in order to grow towards reconciliation, closer as humans, closer as brothers and sisters. So much has been lost, and the world is lesser for it. It is our moral responsibility as educators, as humans, to preserve the diverse cultural practices and values entirely unique to this great land and its people for future generations. Knowledge starts in the classroom, and it's something I look forward to helping in."
Jasmine Pauzé, director of the Mawi'omi Indigenous Student Centre, presented Lodge and Abbott each with a shirt and a hat; and a copy of Mi'kmaq Campfire Stories of Prince Edward Island by Julie Pellissier-Lush, Poet Laureate of PEI. They will also receive $1,000 each. The scholarship is sponsored by the Bank of Montreal.