SEASON PREVIEW: UPEI Men's Hockey Panthers poised for big things in national championship season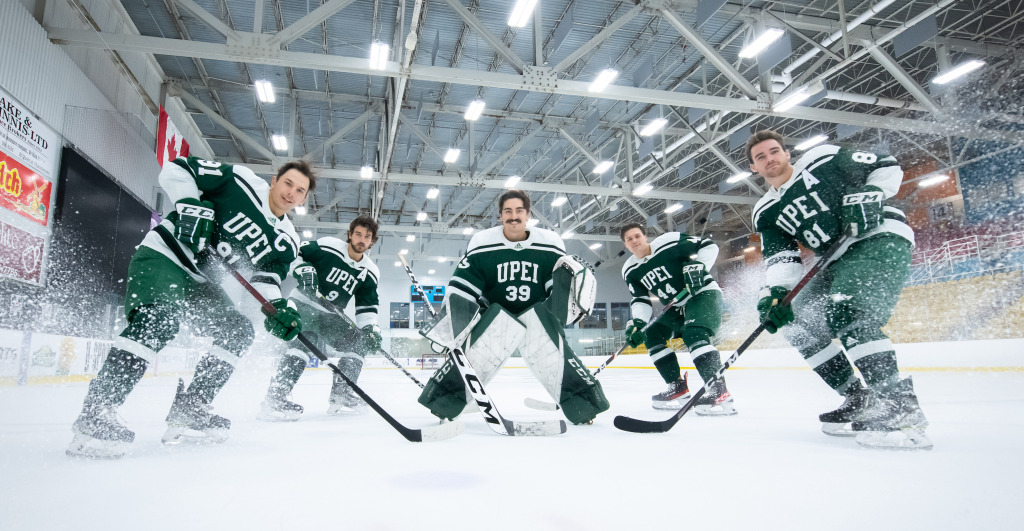 The 2022–23 season promises to be like no other for the UPEI Men's Hockey program, and if the pre-season was any indication, it could be a successful one as well.
The Panthers are coming off an impressive exhibition slate that included wins against the Ottawa Gee-Gees and the Carleton Ravens, and a tough 1-0 loss against the University of Maine Black Bears, whose hockey program is known for some remarkable runs in the NCAA tournament.
"You couldn't have drawn up a better trip," said head coach Forbes MacPherson. "We played well and did some team building, and we're just feeling good right now."
Like the Black Bears in 1993, the Panthers are looking for their first national championship, and there's no better opportunity than the present as UPEI will host its first national tournament since 1970.
"This year, more than ever, our team has a clear understanding of what we're trying to accomplish," said fourth-year forward Troy Lajeunesse, who enters the season as the team's captain. "The guys are excited to get things started and have high expectations of themselves and the team."
The expectations Lajeunesse speaks of are not unfounded, as the Panthers enjoyed a strong 2021–22 campaign and are carrying a similar roster this season.
"The team being together for so long has strengthened our camaraderie off-ice as well as our chemistry on the ice," Lajeunesse said. "Generally, it takes some time getting used to the style of play in this league and having so many returning players should make for a smooth transition into the regular season."
A year after his breakout season, Lajeunesse leads a talented forward group that should improve upon its 3.13 goals per game—the fewest since the 2016–17 season.
Since he arrived in 2019, forward Kyle Maksimovich has averaged more than a point per game, while sophomore forward Kaleb Pearson looks to build off a promising rookie campaign that was cut short after he broke his wrist. Both players have all-star potential, and they'll be counted on to put the puck in the net.
The biggest surprise of the off-season was the late return of forward TJ Shea, who decided to suit up for the Panthers one last time with a national championship on the line. The reliable veteran quietly finished with a team-high plus-13 rating, which ranked seventh in the AUS.
On the other end of the ice, the Panthers emerged as one of the conference's elite defensive teams after allowing just 69 goals—the second fewest—in 2021–22. They're big, physical, and ready to shut down opponents again.
"Our defensive game made great strides last season, and it was truly an all-around team effort," said sophomore defenceman Conor MacEachern. "We have a strong group of defencemen, but it goes beyond that. We have two goalies we can count on, and our forwards are committed to playing a 200-foot game."
Joining MacEachern along the blueline are Kurtis Henry, Cole Candella, Matt Brassard, and Ian Smallwood, and rookie standouts Leon Denny and Logan Kelly-Murphy. There's a lot of talent at MacPherson's disposal, and it's up to him to figure out how to line up the pairings for success.
Another reason why the defence looked so good was because of the goaltending. Mystery man Jonah Capriotti seemingly came out of nowhere and put on a stellar performance in his debut against the perennial powerhouse UNB Reds, and he's been the number one guy ever since.
The fourth-year netminder put together an 8-8 record with a 2.42 goals against average and a .912 save percentage. If he can match that level of production, the Panthers will be in good shape. Lucas Fitzpatrick will serve as the backup, looking to bounce back after a tough season.
There's a lot of excitement surrounding the season and the team, and as the countdown to the season opener nears its end, the Panthers are ready to deliver the thrills and maybe make some history along the way.
"It's a group that's been together for a while, and we've been through a lot over the years," MacEachern said. "We've been waiting for this season for a long time and now we're here. It's an exciting feeling."