UPEI SEASON PREVIEW: Women's Soccer Panthers heading into season with renewed sense of confidence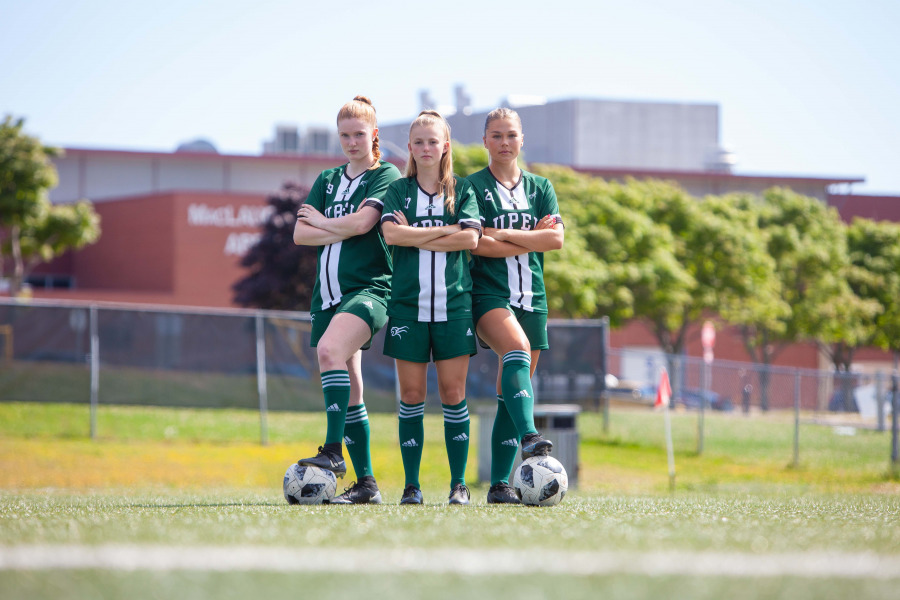 Spend a few minutes chatting about UPEI women's soccer with head coach Lewis Page and you'll notice the word "confidence" often comes up. That's because there's a renewed sense of purpose among his players who believe they can turn the team's recent fortunes around.
Last year the Panthers showed that they can contend with other teams even though the results didn't necessarily reflect that. Overall, UPEI finished with five draws, while three of their six losses were of the one-goal variety. As the new season approaches, the team's veteran players know they have what it takes to capture those lost points this year.
"Although last year didn't end how we hoped, we learned a lot and are ready for a fresh start," said third-year winger Braylan MacEachern. "Getting to the postseason will take grit and determination. No matter where we are in the standings, we have to focus on starting fresh each game and working together as a team."
Part of the issue last season was the Panthers' struggle to score, as they mustered only 11 goals in 12 games. Too often, they played it safe instead of taking chances and trusting themselves. This year, Page wants to see his players attack more often and show confidence in their abilities.
"When we get in that attacking third, I want to see our players get past those fullbacks and try to make something happen," Page said. "When we get in those positions, I want them to go for the goal."
One player who will undoubtedly help in that area is striker Patrycia Kozak. Last season, the 18-year-old rookie showcased her goal-scoring prowess with the Oakville Blue Devils in the challenging League1 Ontario, where she deposited three goals in 14 games. As an encore performance a few months later, Kozak scored twice in a 3-2 win over the Mount Allison Mounties in her AUS pre-season debut.
But the rookie can't do it all, and Page said he'll need strong seasons from wingers Caitlyn McCloskey and MacEachern, as well as veteran striker Rachel Green, to get back to the promised land. All three have shown flashes of greatness, but now it's about consistency over 12 games.
"We have a great attack-minded team this year, and everyone is hungry to score and create chances," said McCloskey, who returns for her third year. "We're working hard to capitalize on opportunities in the attacking third, especially in transition. We have a talented group; we just need to finish our chances."
Even though his midfield is young, Page said, there's plenty of quality depth at the critical position. Third-year midfielders Madi Fisher and Sarah Eden and sophomore Sophie Messom bring valuable experience along the line, while rookies Katie Trifos, Lydia Hamill, and Heather Williams have a chance to make an impact right away and cement themselves at the position for years to come.
Meanwhile, last year's much-improved defence will look very familiar with sophomore centre backs Grace Veinotte and Roselyn Kushko patrolling the middle and Phoebe Mitchell flanking them. However, Page will need to pencil in another trusted defender after the reliable Laura Burge graduated from the program. As for the last line of defence, sophomore keeper Veronica Kozak is expected to start in net, while rookie Claudia Mazzei should serve as the primary backup.
Since accepting the women's head coaching job in 2020, Page has made it a point to instill confidence in his players and their ability. Now they will need to demonstrate it if they truly intend to break their playoff drought and turn the page toward something greater.
"I think it would mean everything to this team to make the playoffs, and it would set us up for success for years to come," MacEachern said. "We've had a few heartbreaking years where we didn't make it by a few points, so finally getting over that hump would mean a lot."
The UPEI Women's Soccer Panthers will kick off the season away when they take on the Cape Breton Capers in Sydney on Saturday, September 10, at 1 pm.