UPEI SEASON PREVIEW: Women's Rugby Panthers ready to contend against the AUS elite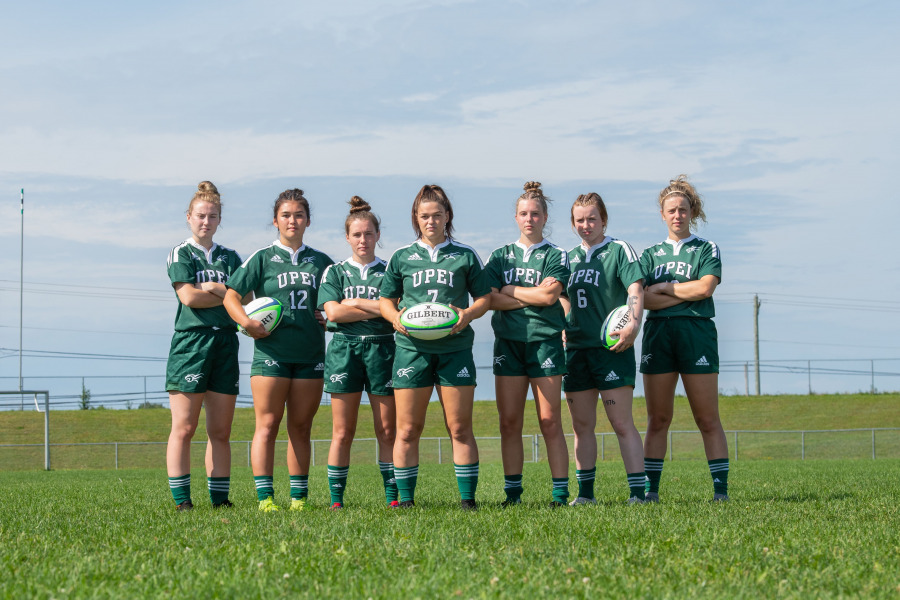 The UPEI Women's Rugby Panthers look to send shockwaves across the league this season.
After a stunning victory against the St. Francis Xavier X-Women in the 2021 home opener that culminated in a 3-3 record and a U SPORTS top-10 ranking, the players believe that this is their year.
The Panthers come into the season with a roster filled with battle-tested veterans and promising young rookies who have a chance to make an impact right away. But the biggest development this off-season was the retention of graduates Brinten Comeau and Nicole Davies for another season, and the return of all-Canadian prop Frances MacWilliam, who decided to make a comeback after a year away from the team.
"It's been an amazing experience being part of the program's growth, and last year was a special one for the team," said Comeau, who returns for her fifth year. "We have a great group of players here, and I hope we continue to build off what we accomplished last year."
The team's success in 2021 made its best talents recommit, knowing there's a real chance to claim a title.
"They weren't willing to give up their opportunity to help UPEI get to where we want to be," said Panthers head coach James Voye. "I don't think they'd return if they didn't feel like we had a good chance at achieving our goal."
Comeau's decision, in particular, was the biggest domino to fall, as the AUS all-star and U SPORTS all-Canadian is the engine that makes the team run.
"A player of her calibre coming back to the Panthers will only motivate the team and rise to meet her standard."
That standard Voye speaks so highly of is imperative to UPEI's success. They'll no longer catch teams by surprise, and they have to be at their best right away, as their two biggest foes—the St. FX X-Women and the Acadia Axewomen—come to UPEI on back-to-back weekends to open the season.
"The girls are fired up to be back together and are working hard toward building on last season's success," said Davies, who returns for her sixth year. "There's always a certain pressure to perform at this level, but we're handling it by pushing each other at practice and keeping a positive, growth-focused mindset and atmosphere. We know what we are capable of, and now we have the opportunity to show it."
Whether it's Emma Maclean, Tessa Hood, and all-star Emily Duffy displaying their strength upfront, or backs Agustina Cohen, Mia Fradsham, Emily McKenna, and Charlotte Branchflower using their speed and agility to break through lines, Voye believes this is UPEI's strongest roster since 2016 when the team lost to Acadia in the semifinals by a single try.
Voye said with the amount of AUS experience in his squad this year, he's expecting that they will be tough to compete against and won't be easily pushed around.
"Last season, I felt we were among the top in the AUS regarding set pieces (scrums/lineouts). Being able to bring back a veteran team and adding some depth during the off-season, I'm hoping we'll have similar success in those areas."
As for the backline, which includes standout rookies Jorja Cook and Lauren Bull, Voye said they are the most skilled group of backs he's ever coached at UPEI.
"Their ability to spin the ball off both hands at varying lengths is much crisper, resulting in better pass execution. This allows us to be more dynamic on attack off set pieces and in open play."
With all the talent at his disposal, Voye has the luxury of drawing up a few strategies to keep the opposition off balance and not let deficits get out of hand.
Voye has done well assembling a promising group of young women eager to field a contending team. But now it's up to them to decide how far they go.
"It's important that we keep working hard in practice and creating a positive culture and environment we want on and off the field," Comeau said. "We have a basic structure we know we need to follow. But in the end, it comes down to how we can adapt and play rugby confidently knowing that we can contend with the other teams in the league."
The UPEI Women's Rugby Panthers take on the St. FX X-Women in their season and home opener on Saturday, September 10, at 2 pm, on MacAdam Field on the UPEI campus.