UPEI ready to welcome incoming students during New Student Orientation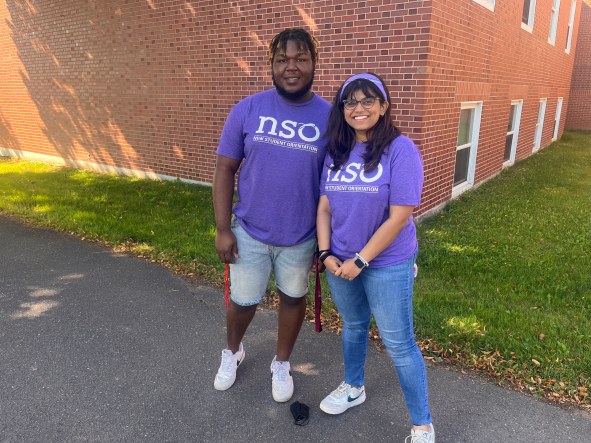 The UPEI campus is bustling with activity as the campus community prepares to welcome incoming and returning students in-person.
For the first time since the COVID-19 pandemic began in 2020, New Student Orientation (NSO) is being held in-person on the campus. As of September 1, over 900 students had signed up for a fun-filled 12-day schedule full of great events and informative activities for incoming students.
"We are so excited to hold NSO in-person this year," said student coordinators Inara Bhalesha and Nathan Lacroix. "NSO brings together our diverse campus community—faculty, staff, and returning students—to create a welcoming, friendly space for new students."
The official kick-off for NSO takes place on September 3 from 1 to 3 p.m. at UPEI Alumni Canada Games Place. Students can meet other students and NSO team members, participate in friendly competitions and games, and experience some of UPEI's incredible campus spirit.
During the week, students can participate in a variety of events, including a Student Services trade fair, a 4K walk/run in support of the UPEI Food Bank, a friendly dodgeball game against faculty and staff, and a "Meet Your Faculty" event where they can explore the campus and meet professors and instructors. 
A signature event will be a food drive in support of the UPEI Food Bank on Thursday, September 8 from 5–7 pm. Students will meet outside Dalton Hall on the campus and walk to the neighbourhood of Sherwood to collect non-perishable food items. The UPEI Panther-Mobile will escort students and help to deliver items back to campus.
"The UPEI Food Bank provides an essential service to many students throughout the year," said Bhalesha and Lacroix. "We are grateful to the community for their support of UPEI students."
The International Student Office team also delivered online orientation for international students throughout the month of August and will host in-person activities in the first week of September. Because the veterinary students begin their program earlier than students in other programs, orientation took place in late August.