UPEI faculty member named to the Royal Society of Canada College of New Scholars
Congratulations, Dr. Wang!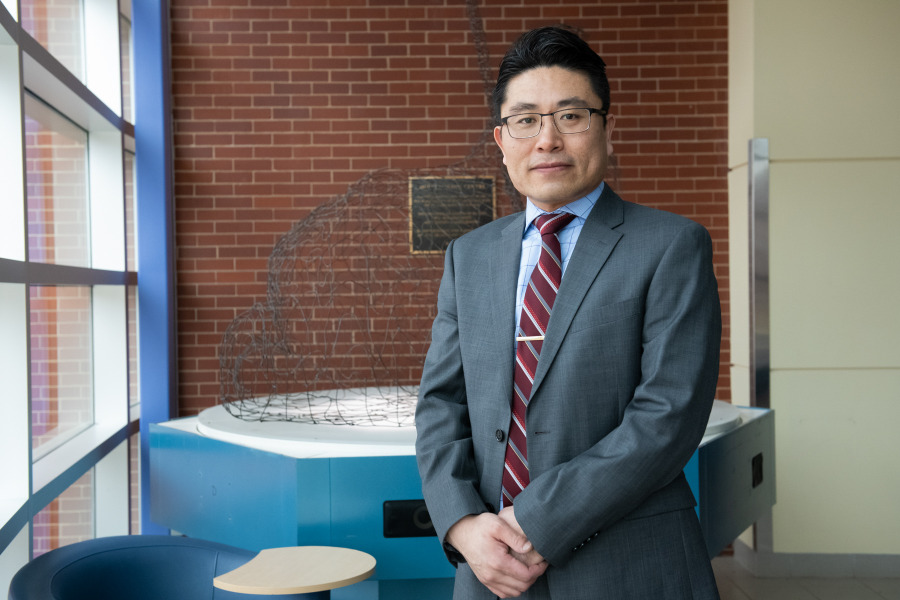 Dr. Xiuquan (Xander) Wang, an associate professor in the UPEI School of Climate Change and Adaptation, has been named a member of the Royal Society of Canada (RSC) College of New Scholars.  
Wang is one of 54 Canadian mid-career leaders named to the RSC College of New Scholars this year. A media release issued by the RSC on September 6 states that the new members will "provide the College with a multigenerational capacity to help Canada and the world address major challenges and seize new opportunities including those identified in emerging fields."  
Wang is internationally recognized for his contributions to the understanding of regional climate change impacts through his pioneering work in high-resolution regional climate modeling, statistical downscaling, and urban flood modeling. 
"I am truly honored to be elected as a new member of the RSC College of New Scholars," said Wang. "It is really encouraging to see that my work on climate change impacts and adaptation has been recognized by the RSC as a major career achievement. As I continue to explore the research pathways toward a climate-smart future, I am very thankful for the support from the Canadian Centre for Climate Change and Adaptation at UPEI. Particularly, I would like to thank the talented and hard-working research team from the Climate Smart Lab." 
Wang has a multidisciplinary background in climate science, environmental science and engineering, GIS and remote sensing, water resources, computer science, statistics, and data science. His research is mainly focused on regional climate modeling, climate downscaling, hydrological modeling and flooding risk analysis, energy systems modeling under climate change, climate change impact assessment and adaptation studies, GIS, spatial modeling and analysis, big data analysis and visualization. 
"On behalf of UPEI, I congratulate Dr. Wang on this very prestigious appointment, said Dr. Greg Keefe, interim president and vice-chancellor of UPEI. "UPEI is increasingly renowned for excellence in research and scholarship because of the high standards of scholars and leaders like Dr. Wang."  
Dr. Greg Naterer, vice-president academic and research, also congratulated Wang on his achievement. 
"Being named to the College is a testament to the high quality of Dr. Wang's research and teaching in the field of climate change and adaptation," said Naterer.  
On November 25, the RSC will welcome the Class of 2022 RSC Fellows and members of the College at an in-person event in Calgary, Alberta.  
Wang is the third UPEI faculty member to be honoured by the RSC. In 2011, Dr. Ian Dowbiggin, professor of history, Faculty of Arts, was named a Fellow of the Society's Academy of the Arts and Humanities. In 2014, Dr. Sunny Hartwig, associate professor of biomedical sciences, Faculty of Veterinary Medicine, was named a member of the Society's College of New Scholars, Artists, and Scientists.