This News Story is more than 1 year old. Links and contact information may have changed.
UPEI advises campus community to be prepared for Fiona!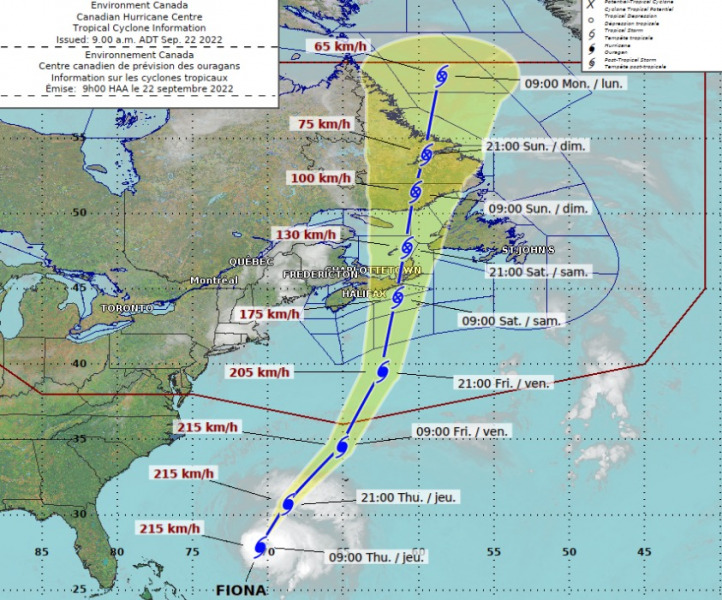 The University of Prince Edward Island has taken measures in advance of any impact from Hurricane Fiona on PEI.
Both Facilities Management and IT Systems and Services (ITSS) are asking faculty and staff, as well as students living in residence, to take some precautions in order to prevent possible damage to buildings and equipment.
Facilities Management is responsible for the physical infrastructure on campus and is requesting that members of the campus community ensure that all windows and doors in campus buildings are properly closed. If an issue arises, please contact UPEI Security Services at 902-566-0384.
With the potential for power outages and surges, ITSS reminds faculty and staff to turn off their computer work stations and monitors when they leave their workspaces/offices at the end of the day.
The University also recommends that, as members of the community brace for the storm, they should prepare for no power for up to 72 hours.
UPEI Athletics and Recreation may also be affected by the impending weather. Home and away games for men's and women's hockey, men's and women's soccer, and women's rugby that are scheduled for the weekend may need to be cancelled or rescheduled. Visit gopanthersgo.ca for more information.
As of mid-day Thursday, Environment Canada had issued a Hurricane Watch statement for all of PEI and other parts of Atlantic Canada. The PEI Emergency Measures Organization has partially activated to Level 2, meaning that EMO staff and broader identified government departments, agency partners, and municipal council and community organization members are meeting at a higher frequency to discuss preparation and business continuity plans.
For the latest information, please check with local media or visit PEI Public Safety and the provincial Storm Response page for regular updates throughout the storm. 
To receive notifications from the University about university/storm closures and any safety issues, download UPEI SAFE, the official safety app for the University on the App Store or Google play. For more information about UPEI SAFE, visit upei.ca/upei-safe.
Media Contact
Director of Communications and University Relations
Marketing and Communications