Teen from Nunavut finds passion for veterinary medicine at AVC Vet Camps
Aliyah Aglukkaq recently attended the 2022 Dr. Tim Ogilvie Atlantic Veterinary College Vet Senior Camp in July 2022 which ignited her passion for veterinary medicine.
| Atlantic Veterinary College
Rachel Cutcliffe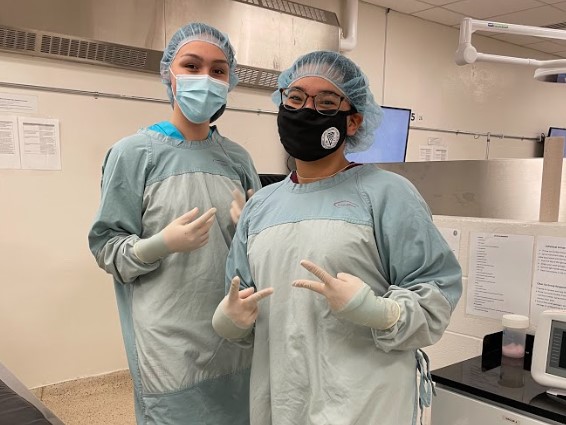 When Aliyah Aglukkaq was approached by her science teacher about applying for the 2022 Dr. Tim Ogilvie Atlantic Veterinary College (AVC) Vet Camp, she knew it would be an opportunity of a lifetime.
"I come from a rural area in Nunavut where dogs are important members of our community," explains Aglukkaq. "But when they are sick, injured, or unwanted, they often have to be put down due to lack of veterinary care or are sent to Yellowknife where they may or may not be returned to their owner. I've always been concerned about our lack of resources and naturally became interested in veterinary medicine."
Aglukkaq is from Gjoa Haven, Nunavut. Gjoa Haven is an Inuit hamlet of approximately 1,350 people located above the Arctic Circle and 1,050 kilometres northeast of Yellowknife, Northwest Territories. The only way to access the community is by plane, or by boat through an Arctic harbour that is frozen from September to May.
"Travelling to Charlottetown for AVC Vet Camp was the best decision I ever made," says Aglukkaq. "Although the flights were long and the travel days were exhausting, the experience of attending the camp made it worth it."
Aglukkaq joined 46 other high school students from all over Canada, the United States, and the world for one week of camp where participants were fully immersed in veterinary medicine. Campers learned about toxicology, anatomy, radiology, small and large animal physical examinations, and much more through presentations from faculty, staff, and students at AVC. They also witnessed a pig necropsy, performed fish and pig heart dissections, went on a field trip to Handibear Hills Horse Sanctuary, participated in a venipuncture lab, and observed spaying and neutering from the AVC small animal surgery team.
"There were so many favourite moments at AVC Vet Camp," says Aglukkaq. "But I particularly enjoyed dissecting the pig heart, being around the beagles and learning about small animal physical examinations, and having the opportunity to see a guinea pig. I have never seen a guinea pig in person, so I was really impressed with how big they were."
After spending a week in Charlottetown, Aglukkaq hopes to take her newly learned skills and use them to volunteer with Paws with Purpose, a grassroots committee in Gjoa Haven that promotes dog health and provides education and resources to help reduce the loose dog population in her community. Paws with Purpose partners with the Veterinarians without Borders (VWB) Northern Animal Health Initiative which was launched five years ago under the leadership of Dr. John VanLeeuwen, interim dean, AVC, and then president of VWB-Canada. 
"Attending AVC Vet Camp reinforced how enthusiastic I am about helping animals," says Aglukkaq. "I hope to eventually become a student at the Atlantic Veterinary College, get my doctor of veterinary medicine, and then open my own veterinary clinic in Gjoa Haven."
---
The Dr. Tim Ogilvie Atlantic Veterinary College Vet Camp was created in 1999 by Dr. Tim Ogilvie, former dean of AVC. Since the camp started, over 3,500 campers have come through AVC's doors and many have gone on to work in the veterinary medicine community as veterinarians, veterinary technicians, researchers, and more.
In 2022, AVC welcomed 214 campers from across Canada, the United States, and the world during the month of July. The camp is supported by faculty, staff, and students at AVC, and offers subsidized scholarships from generous donors, partners, and grants, such as Nestle Purina and the Natural Sciences and Engineering Research Council of Canada.
Media Contact
External Engagement Officer
Atlantic Veterinary College