This News Story is more than 1 year old. Links and contact information may have changed.
Couple honours dog's memory with scholarship to the Atlantic Veterinary College
Matthew Latimer and Shama Huda hope to honour their Shih-tzu, Gizmo's, memory with an annual scholarship to the Atlantic Veterinary College.
| Atlantic Veterinary College
Rachel Cutcliffe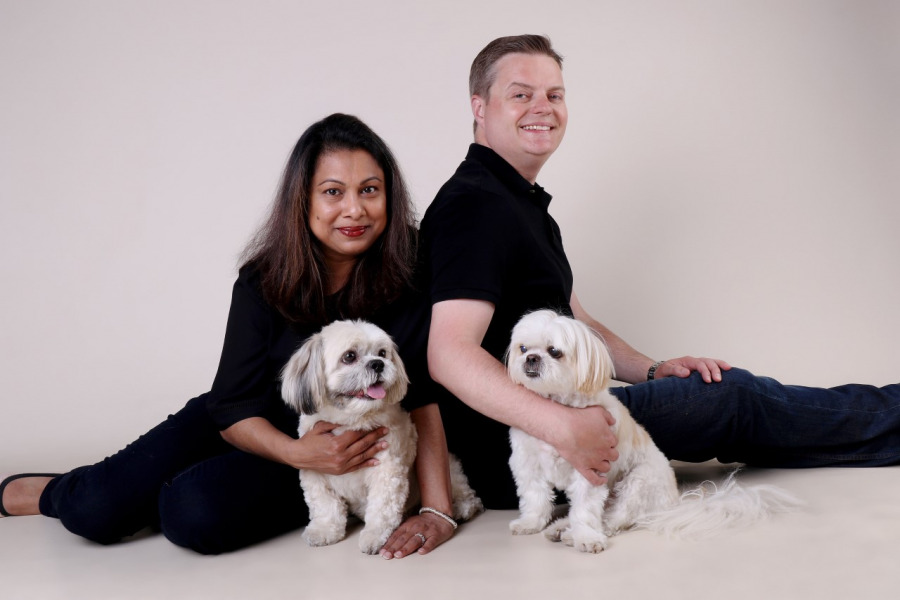 Matthew Latimer and Shama Huda met Gizmo on a June day in 2014. Friends had told them about a little Shih-Tzu who was surrendered to a local rescue, and they wanted to meet him to see if he might be a good fit for their family.
"When we arrived, he was standing on his back legs turning in circles for treats," explains Huda. "There was an immediate connection that's hard to explain. We just knew he was ours."
Gizmo joined the couple and his new brother Sam, a Lhasa Apso. Although there were some learning curves, as there often are when a new member joins the family, his big personality and spirit fit right in, and they became a family of four.
About a year after adoption, Latimer was taking Gizmo for a walk when he experienced what can only be described as a grand mal seizure. After many appointments and tests, Gizmo was diagnosed with Degenerative Mitral Valve Disease (MVD) or endocardiosis – the most diagnosed cardiovascular disease in dogs.
MVD accounts for more than 75 per cent of heart disease in dogs. Though any dog can develop MVD, there are some genetic factors that can increase risk, and smaller and toy breeds may be more susceptible to the disease. The disease is more commonly managed through medication, but there is an option to treat MVD through mitral valve open-heart surgery – but it is still rare in veterinary medicine.
Currently, there are very few places in the world where surgical mitral valve repair is available; Japan, the United Kingdom, France, and the United States. The surgeries can be cost-prohibitive, may require animal isolation for border restrictions in some countries, and the success rates vary based on the animal's candidacy. Less invasive valve repair techniques are beginning to be investigated which may broaden the surgical options for dogs with MVD in the future.
"The thought of taking Gizmo to have an invasive surgery and potentially never getting him back was heartbreaking," says Huda. "At the time, there were no surgical options available in North America, so we knew the risk factors - long flights, isolation requirements, his age, flat-faced dog - made him not a great candidate for surgery."
As a result, they chose to manage Gizmo's condition through medication. This essentially only bought the family more time. A once active and spry "little-big man" at the dog parks, Gizmo became lethargic and as time went on, would have to be pushed in a stroller on walks.
"It felt like we were simply managing the decline," explains Latimer. "As we watched his condition deteriorate, we couldn't help thinking, why is there not a surgical option in Canada for MVD? It's a common disease, we have the technology, we know how to repair and treat it, why can't we provide this option to Canadian families."
After living seven months past his prognosis, Gizmo passed away on November 25, 2019, peacefully in his parents' arms – an opportunity that Latimer and Huda are grateful for and recognize that many families don't have.
To honour Gizmo, they have set out on a mission to support future veterinary cardiologists in their education and training.
"When Gizmo passed away in 2019, we were shocked to learn that there were only 11 veterinary cardiologists in Canada," explains Latimer. "We know this is a challenging specialization and it takes a very special person to pursue it, so we wanted to support their path so animals can receive treatment for cardiac ailments, and ultimately, families can stay together longer."
Latimer and Huda have created an annually funded scholarship at the Atlantic Veterinary College at the University of Prince Edward Island in Gizmo's memory. The scholarship, entitled, "The Gizmo Latimer Memorial Scholarship in Cardiology," is awarded each spring to a graduate student enrolled in the master of science – residency in cardiology program.
Although they recognize establishing a space for mitral valve open-heart surgery to be performed in Canada might be a lofty goal, their hope is that by supporting future veterinary cardiologists, they may have a small impact on this being a possibility in the future. 
"Gizmo was more than a dog to us. He was the love of our lives, he was our child, he made us a family" reflects Huda. "We needed to recognize the unconditional love we received from him and the impact he had on our lives. We trust that eventually, we will find a special practitioner who will be able to contribute to advancements with the prevention, treatment, and care of mitral valve disease."