This News Story is more than 1 year old. Links and contact information may have changed.
Brinten Comeau and Duncan Murray named UPEI Panther Subway Athletes of the Week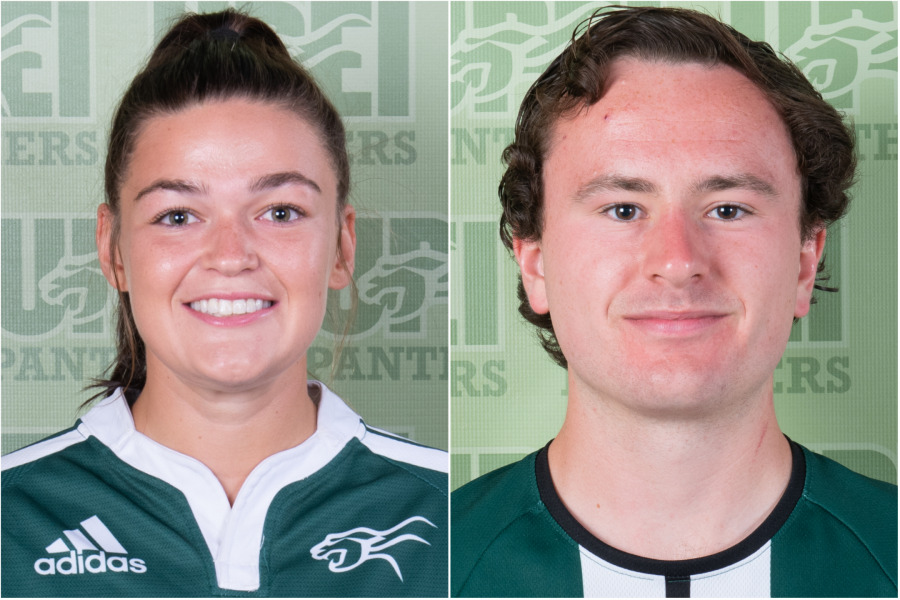 Every week, UPEI Athletics and Recreation recognizes two student-athletes for their achievements and contributions to their respective sports. UPEI Panther Subway Athletes of the Week for September 12–18 are Brinten Comeau (women's rugby) and Duncan Murray (men's soccer).
Comeau led the Panthers to another impressive win at home on Saturday, September 17, as they defeated the Acadia Axewomen 38-5. The fourth-year flanker from Hammonds Plains, NS scored the game's opening try and showed off her physicality as evidenced by her 14 line breaks on offence and 18 tackles on defence.
"Brinten had an outstanding performance, scoring another important try that really sparked the team to go on and score another 31 points over the final 50 minutes," said head coach James Voye. "Her defence was exceptional. She finished with six poaches and made countless dominant tackles behind the gain line."
UPEI Men's Soccer midfielder Duncan Murray of Damascus, NB was one of the bright spots in the team's two losses over the weekend. The fourth-year science student led the team in regains and tackles.
"Duncan puts his heart into every game," said head coach Lewis Page. "No one outworks or outcompetes him."
Go Panthers Go!