Rookie striker Patrycia Kozak excited to reunite with sister for UPEI Women's Soccer
| Athletics
Thomas Becker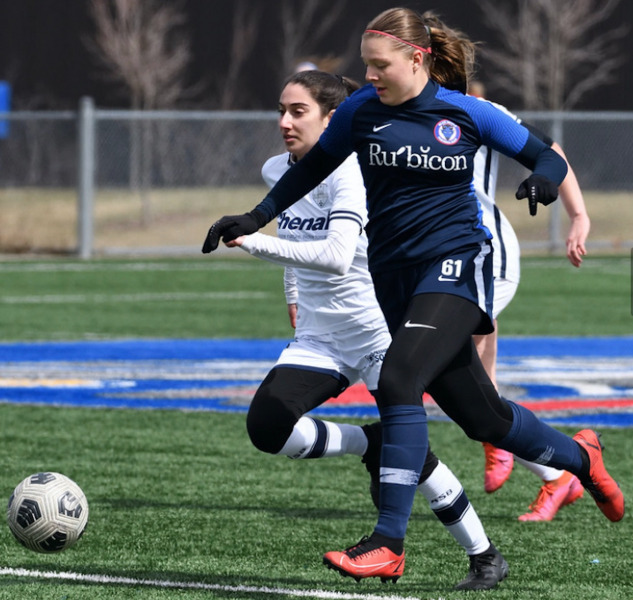 Growing up, sisters Patrycia and Veronica Kozak would end most soccer practices with a fun little game. The prize: bragging rights for the night.
The game was simple. Patrycia, a goal-scoring striker, had to take 15 shots outside the 18-yard box. If she scored more than five goals against her goalkeeping sister, she won. If she didn't, then Veronica won.
When asked who gathered the most wins, Patrycia quickly deferred to her older sister.
"Yeah, she won most of the time," Patrycia said. "She definitely had the bragging rights there."
Those moments were important bonding opportunities for these two talented soccer sisters, who will once again be linked on the pitch, this time as teammates for the UPEI Women's Soccer Panthers.
For Patrycia, the path was obvious. She always played on the same team as Veronica, so when it came time to choose a university to represent, UPEI was the logical choice.
"I like playing on the same team as my sister because I always know there's someone on my team who will have my back no matter what."
That reassurance and support will be incredibly helpful for an incoming rookie who will face her toughest competition to date and be relied on to score goals for a team in need of an offensive spark.
Patrycia said she's ready to make an impact with the Panthers after showcasing her goal-scoring prowess with the Oakville Blue Devils in the tough League1 Ontario, where she deposited three goals in 14 games this past season.
The 18-year-old from Mississauga, Ontario, is a strong technical player who can see a play before it happens and often makes the right reads. She's also comfortable turning and shooting with both feet, which should help against defenders.
"Hopefully, I can build off the success I had with my past teams and be the outlet the team needs to score more in the final third," said Patrycia, who will study kinesiology at UPEI.
That's exactly what Panthers head coach Lewis Page is hoping to see from his newest striker this fall.
"Quite simply, Patrycia scores goals. She is a natural striker with a scorer's touch," Page said. "She will certainly add another dimension to our game. We created chances last season but needed to finish more of them."
Patrycia's impressive soccer resumé extends internationally as well. In 2019, she was invited to participate in Poland's under-15 women's national team camp after being scouted from her soccer Instagram account. Following a successful stint with the club, she was called up to the under-17 team that December with her sister, where she continued to develop her skills.
Most recently, Patrycia returned from a trip to England where she competed against the likes of Leicester City FC, Blackburn Rovers FC, Sheffield United FC, and Steven Gerrard Academy with a team from Canada.
"I think trips like these are important in a young player's soccer career, especially for me because it exposes me to different styles and levels of soccer," she said. "It helped me recognize what I need to work on as I progress through the levels."
There's no question that these experiences have been critical to her development, but at the heart of her success has always been the support of her family.
"If I have a bad game, they are the first people to help me through it, and when I have a really good game, they are the first people supporting me. I couldn't have come this far without them."