UPEI Women's Soccer Panthers recruit Katie Trifos looking to spark offence
| Athletics
Thomas Becker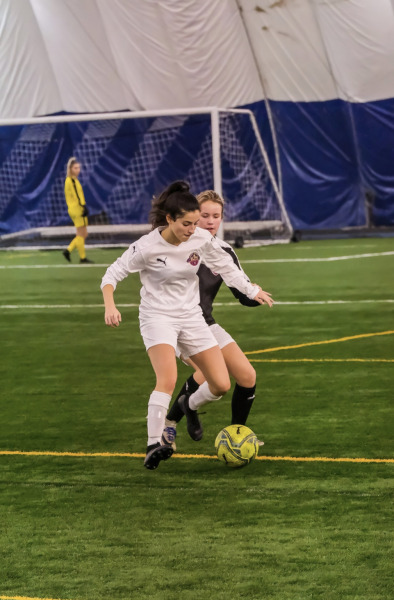 UPEI Women's Soccer head coach Lewis Page wants his team to score more, and he's hoping his latest recruit, Katie Trifos, can help facilitate the offence.
Last season, the Panthers found themselves in most games, but the margin of error was slim as they averaged fewer than a goal per contest. As a result, UPEI finished with a 1-6-5 record.
That's where Trifos' skillset comes in. Page envisions the 18-year-old as a cornerstone piece to the midfield and someone who can set up teammates for more scoring chances.
"We need more players who can break down defences with their passing and their vision, and Katie brings that to our team," said Page, who was impressed by Trifos' performance at a combine hosted by Suburban Football Club in November. "Katie is a hard worker who plays with enthusiasm and has the ability to create chances for our front players."
Trifos, a native of Halifax, NS, says she's a team player and is willing to do anything to help the Panthers succeed.
"I'm a midfielder who can play in the centre of the field or on the wing," she said. "I play fast in the midfield and can distribute the ball to the scorers. And when I play on the wing, I like to get lots of crosses in for the striker and midfield to run onto."
The Panthers are also getting a proven winner in Trifos. Before joining the Halifax City Soccer Club, she captained the under-13 Halifax Dunbrack Soccer Club that went on to win a provincial championship before capturing bronze at the 2017 Atlantic Championship. She followed that up with back-to-back gold medals in her under-14 and under-15 seasons. And if that wasn't enough, she also guided her high school team—King's-Edgehill Prep—to a regional championship in 2021.
Trifos recalls staying at UPEI during the 2017 Atlantic Championship and how much she enjoyed everything Charlottetown had to offer. So, when it came time to choose a university, UPEI was at the top of her list.
"I loved the campus when I visited, and it just felt like the perfect place for me," said Trifos, who will be studying biology. "The school offers great academic programs, as well as competitive athletic programs."