Call 1-833-434-BATS (2287) to help endangered Atlantic Canadian bats
Bat Hotline celebrates its 1,000th call!
| Atlantic Veterinary College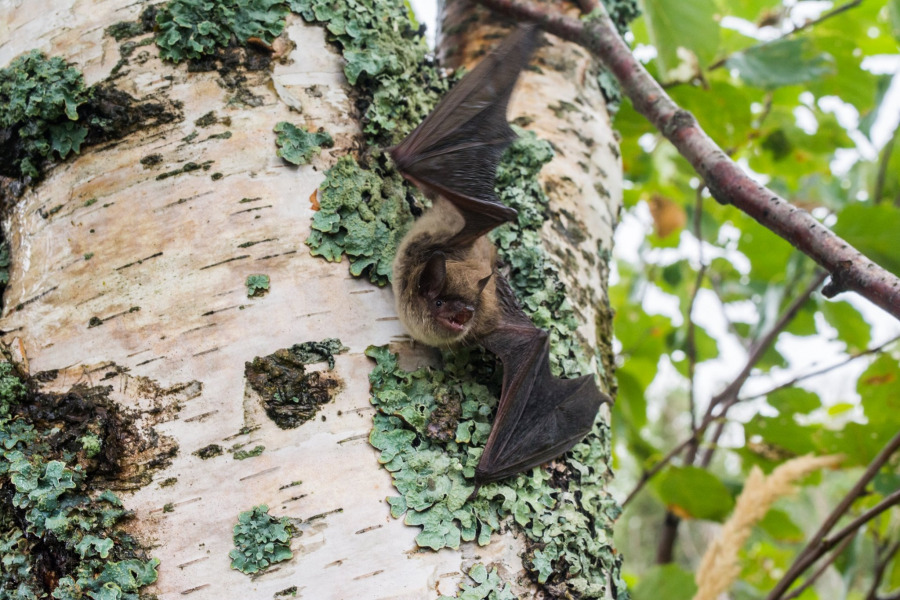 Monitoring of bat populations in Atlantic Canada has begun for the 2022 summer season. Members of the public can help by calling 1-833-434-BATS (2287) to report sightings of bats in Prince Edward Island, Newfoundland and Labrador, New Brunswick, and Nova Scotia. Callers will receive up-to-date and accurate information about bat-related topics, including general biology and ecology, bats and human health, bats in buildings, and conservation.
With funding from Environment and Climate Change Canada's (ECCC's) Habitat Stewardship Program—Species at Risk, the hotline has provided callers with direct access to bat expertise since 2017. The service was expanded to all four Atlantic provinces in 2019.
The bat hotline is offered through the Canadian Wildlife Health Cooperative (CWHC), Atlantic Region at the Atlantic Veterinary College, University of Prince Edward Island, as part of the project, Essential Services for the Health and Conservation of Atlantic Canadian Endangered Bat Species, which also includes a coordination hub for the North American Bat Program (NABat). This project represents a regional collaboration between the CWHC, ECCC, the four provincial governments, as well as the PEI Watershed Alliance, and is integral to the recovery of endangered bat species in Atlantic Canada, including the Little Brown Myotis, Northern Myotis and Tri-colored Bat. 
The NABat program is an international program that strives to monitor bats across North America. Monitoring bats can include acoustic surveys as well as colony counts at summer and winter roosts. For example, if you know of a spot where bats like to roost during the summer, you can safely count them as they emerge. Counting bats provides important information about their population from year to year, which can be used to assess the success of recovery efforts. People interested in participating in bat monitoring this summer can reach out to the bat hotline or email atlanticbats@cwhc-rcsf.ca to join the community of practice for advice on and support for monitoring activities.
In March of this year, the hotline surpassed 1,000 calls from people across Atlantic Canada. The participation of the public in helping to monitor bat populations continues to be very important. Citizen science provides valuable information that assists wildlife managers and bat health experts to conserve and recover bat populations in the Atlantic provinces. Since 2017, the following data were collected in the Atlantic region:
500 bat sightings
101 observations of dead/unhealthy bats; 93 submitted for necropsy and testing to determine their health problem with particular focus on White-nose Syndrome (WNS) surveillance and the protection of human and domestic animal health
275 potential maternity colonies identified
18 possible hibernacula/swarming sites recognized
The health of bats in Atlantic Canada continues to be threatened by the ongoing emergence of the devastating disease WNS in the region. The rapid decline of bats from WNS resulted in the three local bat species noted above as being federally listed as endangered. WNS was confirmed in Nova Scotia and New Brunswick in 2010–2011, Prince Edward Island in 2012–2013, and in Newfoundland and Labrador in 2017. The disease quickly spread throughout each province, killing an estimated 95 per cent of the affected bat populations. Scientists conducting bat surveys around the Maritimes have seen drastic declines in the number of bats they have captured post-WNS, specifically Northern Myotis, and there are concerns that this species has nearly disappeared from the region due to WNS's impact. Similarly, recent surveys of overwintering sites have indicated that recovery has not yet occurred. Therefore, it is crucial to continue with bat population monitoring in the Atlantic provinces to track the spread of the disease and observe population trends, which is why we encourage people to call in their bat sightings. To learn more about WNS, please visit http://www.cwhc-rcsf.ca/wns.php.
Funding for this project is provided in partnership by the ECCC Habitat Stewardship Program–Species at Risk; New Brunswick Department of Natural Resources and Energy Development; Newfoundland and Labrador Department of Fisheries, Forestry, and Agriculture; Nova Scotia Department of Lands and Forestry; Prince Edward Island Fish and Wildlife Division; Prince Edward Island Watershed Alliance; and CWHC, Atlantic Region.
Contact:
Darrian Washinger
Atlantic Bat Conservation Project Technician
Canadian Wildlife Health Cooperative, Atlantic Region
Office: (902) 894-2845/1-833-434-BATS (2287) 
dwashinger@cwhc-rcsf.ca / atlanticbats@cwhc-rcsf.ca