UPEI Canadian Centre for Climate Change and Adaptation officially opened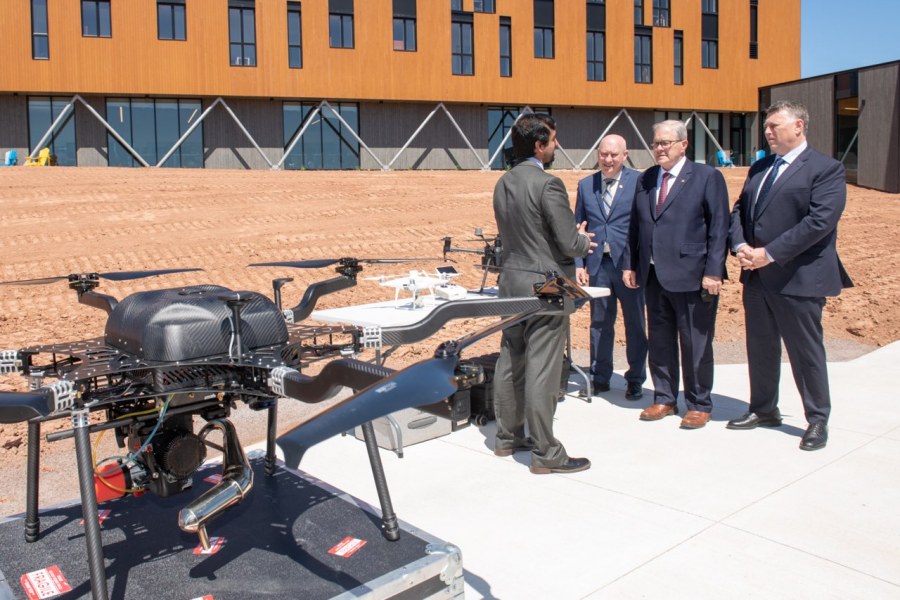 Today, the UPEI Canadian Centre for Climate Change and Adaptation was officially opened in St. Peter's Bay, Prince Edward Island, by the Honourable Lawrence MacAulay, Minister of Veterans Affairs and Associate Minister of Defence and Member of Parliament for Cardigan, on behalf of the Honourable Dominic LeBlanc, Minister of Intergovernmental Affairs, Infrastructure and Communities, and the Honourable Ginette Petitpas Taylor, Minister of Official Languages and Minister responsible for the Atlantic Canada Opportunities Agency; the Honourable Dennis King, Premier of Prince Edward Island; and Dr. Greg Keefe, President and Vice-Chancellor (interim) of the University of Prince Edward Island.
Announced in July 2019, the 45,000-square-foot facility houses the UPEI School of Climate Change and Adaptation, the UPEI Climate Lab, and state-of-the-art research centres of excellence, including the Centre of Excellence in Food Security and Sustainability. It includes research, innovation, and collaboration space; a residence for senior students and visiting faculty; storage and repair space for equipment and UPEI's fleet of drones—the largest in Canada; and common areas designed to encourage interaction and integration of the research focus areas.
The facility is a living laboratory that allows world-class researchers and graduate and undergraduate students access to nearby wetlands, forests, and coastal habitats directly affected by climate change. The site provides access to high-quality datasets, multidisciplinary research teams, outstanding graduate and postdoctoral fellows, and engaged industry, community, and government partners.
"This is a proud day for PEI and for Canada," said Minister MacAulay. "The Canadian Centre for Climate Change and Adaptation will transform rural Prince Edward Island and set the standard for climate-change education and skills development to help mitigate and adapt to climate change on PEI, in Canada, and around the world. The Centre will also drive innovation in green technology, contributing to Canada's transition to a low-carbon economy. We are committed to investing in education, research, and technology that will create a greener environment for generations to come."
"The need to better understand the impacts of climate change, and build resiliency into every aspect of our society, will be crucial in the years ahead," added Minister Petitpas Taylor. "ACOA is pleased to support the Canadian Centre for Climate Change and Adaptation in St. Peter's Bay that will form a cluster of discovery mobilizing expertise on climate change and adaptation that will spur innovation across Atlantic Canada and beyond." 
"As Islanders, we are deeply connected to our land, water, air, and communities. There is tremendous opportunity to address the challenges of climate change by approaching it differently and collaboratively," said Premier King. "Investing in the Canadian Centre for Climate Change and Adaptation is an important step that will build on our current efforts, while preparing future generations of leaders in climate change and adaptation to further reduce impacts to our environment."
"The Canadian Centre for Climate Change and Adaptation provides an interactive environment where new knowledge, research, and development for climate change innovation and adaptive solutions are nurtured within a collaborative multi-disciplinary model," said Dr. Keefe. "The Centre has a key role to play in the discovery of solutions to mitigate the impact of climate change on our coastal areas and the health of our populations and industry—solutions that are applicable beyond our shores. On behalf of UPEI, I thank Minister MacAulay, Premier King, and their respective governments for supporting this important facility."
The Centre supports key learning programs including UPEI's Bachelor of Science in Applied Climate Change and Adaptation, preparing graduates to continue the important work of mitigating the effects of climate change after graduation.
The governments of Canada and Prince Edward Island and UPEI have invested over $14 million in this project through the New Building Canada Fund – Provincial-Territorial Infrastructure Component. The Government of Canada, through ACOA, has contributed over $3.3 million to establish the Centre of Excellence in Food Security and Sustainability, while land for the facility was donated to the University by the Flynn, Keenan, and MacKay families.