This News Story is more than 1 year old. Links and contact information may have changed.
New Faculty installs Indigenous tipi on Charlottetown campus; offers Indigenous Teachings course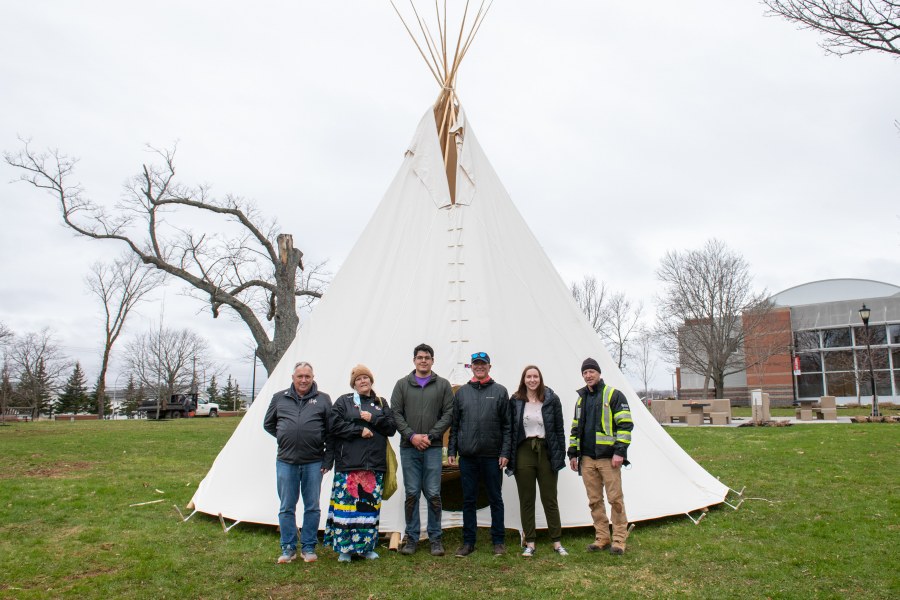 The University of Prince Edward Island's Charlottetown campus is now home to a temporary, cone-shaped Indigenous structure, known as a tipi, that has been erected between the Kelley Memorial Building and the W.A. Murphy Student Centre. 
"With the creation of our Faculty by the UPEI Board of Governors last November, we chose a tipi to represent UPEI's journey of reconciliation and the Indigenous ways of knowing that will be incorporated into our programs," explained Dr. Gary Evans, interim dean of the new Faculty of Indigenous Knowledge, Education, Research, and Applied Studies (IKERAS). 
The canvas-covered tipi, a modern take on the traditional version made of wooden poles and hides, was manufactured and installed by the Sumac Creek Tipi and Trading Company of Serpent River First Nation in Ontario. Although tipis were typically built by the Indigenous Peoples of the Great Plains and not built in Mi'kma'ki, this structure was chosen by the new Faculty to symbolize Indigenous cultural and spiritual presence at the University. Other examples of Indigenous presence on campus include the Mawi'omi Indigenous Student Centre in Dalton Hall, the Mi'kmaq Grand Council flag flying at UPEI Alumni Canada Games Place, the "Sacred Marine Life" mural by Mi'kmaq artist Lorne A. Julien at the Atlantic Veterinary College, and the hand-carved stone bench and garden dedicated to the Mi'kmaq of Epekwitk that is located beside the Cass Building.
"We are grateful to the Mi'kmaq Chiefs and Elders for allowing us to install the tipi in Epekwitk, and we thank Elder Thirly Levi for ensuring the ground and tipi were blessed according to Mi'kmaq ceremony," said Dr. Evans. "We acknowledge that we are on Epekwitk, part of the ancestral and unceded territory of the Mi'kmaq Nation—we thank them for their hospitality."
In April, the University Senate approved several Indigenous courses that will be offered by the Faculty of IKERAS, including "1040 IKE – Indigenous Teachings," which will be mandatory for all incoming undergraduate students and is an introduction to the various Nations on Turtle Island. Anchored in L'nu (Mi'kmaq) knowledge, students will learn about ceremony, protocol, Elders, and traditional teachers. In turn, these will help foster a mental, physical, emotional and spiritual understanding of Indigenous worldviews and ways of knowing. This course also introduces Canada's history of genocide and cultural assimilation imposed upon Indigenous Peoples and why anyone living in Canada needs to know this history.
Students will be first introduced to the tipi as a place of traditional teachings in the "1040 IKE – Indigenous Teachings" course that begins May 9 during the first summer semester session, Evans said, adding that the Faculty is fortunate to have Indigenous peoples from across Turtle Island here on PEI, to whom they can turn for such teachings. 
"Many Indigenous peoples from other Nations have come to make Epekwitk, Mi'kmaq for Prince Edward Island, their home. They bring many ways of knowing and teachings with them."