Father knows best: AVC grad takes unexpected path to PEI
A little luck and encouragement brought Dr. Andrew Cohen (DVM'22) to PEI, but the Island and its people have made him want to stay.
| Atlantic Veterinary College
Rachel Cutcliffe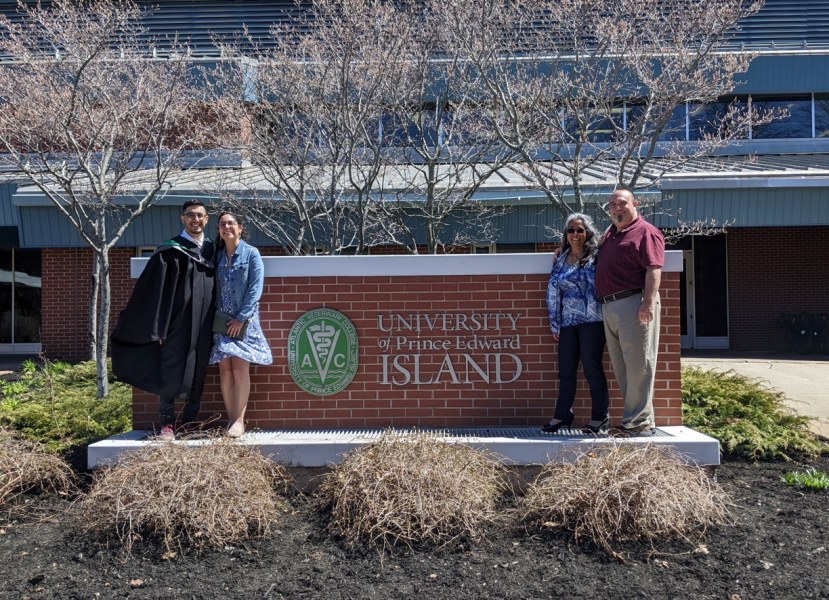 When Dr. Andrew Cohen, doctor of veterinary medicine graduate, started applying for veterinary schools, the Atlantic Veterinary College (AVC) at the University of Prince Edward Island wasn't even on the list.
"I originally applied for seven schools, none of which were AVC," explains Cohen. "After sharing the list with my father, he felt like the number seven was unlucky, and I had to add an eighth."
So, he and his father started looking at the Veterinary Medical College Application Service listing and settled upon AVC. There was something about the College that stood out to his dad. His father felt so strongly about AVC that he paid for Cohen's application fee, and with some gentle encouragement, he applied.   
"When I came for my interview, I just knew that AVC was it for me," says Cohen. "I was able to see the school, meet the people, and experience the community. It didn't feel like everyone was putting on a show; it felt genuine and natural. So, I called my dad and told him that I could really see myself being part of AVC. I knew I would love it here."
Cohen is originally from Hopewell Junction, New York, which is an hour and thirty minutes north of New York City. He knew that moving to Prince Edward Island (PEI) would be an adjustment.
"Being Hispanic and American, I was worried I might feel isolated and alone, so I managed my expectations," explains Cohen. "But everyone was so kind and friendly on PEI. I immediately fell in love with the Island and the people here. I appreciated the slower pace, the friendliness, and the supportive community both at AVC and Islanders in general." 
Over the last four years, Cohen and his wife, who is a registered nurse at the Queen Elizabeth Hospital, have built a life here. Now that he's graduated, they've decided to stay.
Cohen, and two of his classmates, Drs. Ali Ollenberger and Kattlyn Cooper, have recently been hired at the AVC's Veterinary Teaching Hospital to work in its emergency service.
"These were incredible students who will make fine veterinarians, and we are so pleased they have joined the emergency service," says Dr. Heather Gunn-McQuillan, assistant dean of clinical and professional programming. "These students were mentored by the very team that will become their colleagues. They are dedicated to emergency work and the Island's pets, and I feel so fortunate in being able to recruit them to join our team."
In his new position, Cohen will work as a veterinarian in the small animal primary emergency service. This service is dedicated to helping pets in immediate need of medical care 24 hours per day, seven days per week, and 365 days a year. In January, AVC had to scale back the emergency service hours due to staffing levels. Now that Drs. Cohen, Ollenberger, and Cooper have been hired, AVC anticipates the service will return to full service this summer. 
"It was a little bit of luck and my father's encouragement that brought me to PEI," says Cohen. "But it was the people and community that have kept me here. I am excited to contribute back to the community, people, and clients at AVC and PEI." 
Media Contact
External Engagement Officer
Atlantic Veterinary College