AVC cardiologist invested as a Fellow of the American College of Cardiology
Dr. Étienne Côté becomes the first ACC Fellow at the Atlantic Veterinary College and one of only five veterinarians in the world who have been elected as an ACC Fellow
| Atlantic Veterinary College
Rachel Cutcliffe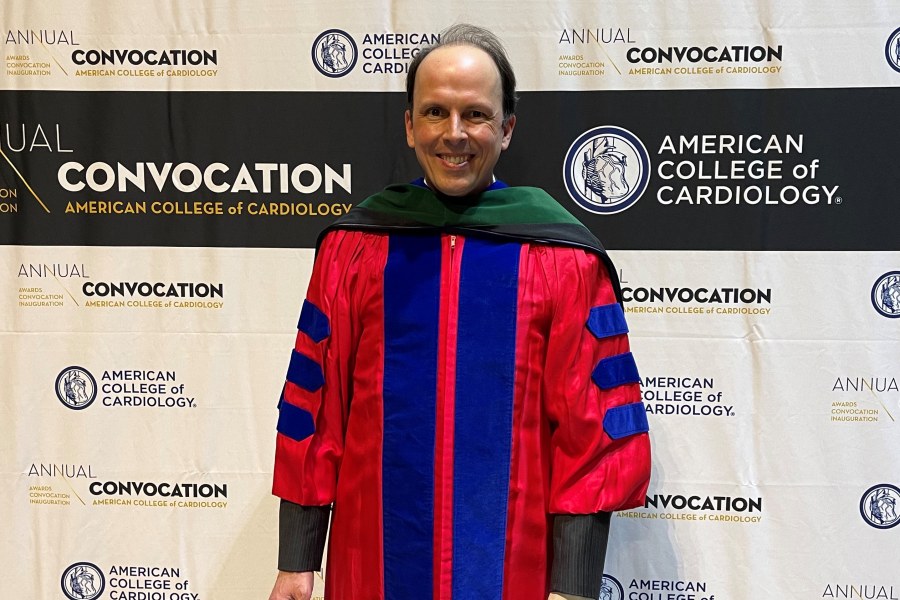 The Atlantic Veterinary College (AVC) at the University of Prince Edward Island is pleased to congratulate Dr. Étienne Côté on being invested as a Fellow of the American College of Cardiology (ACC).
Traditionally, fellowship has been reserved for human-medicine physicians, but in 2019 the designation was expanded to recognize distinguished leaders in the cardiovascular community in non-physician professions. Côté is the first ACC Fellow at AVC and one of only five veterinarians in the world who have been elected as an ACC Fellow.   
"Fellowship identifies you to peers and patients as a cardiovascular professional at the very top of your field," explains Dr. John VanLeeuwen, interim dean, AVC. "It represents a commitment to excellence in cardiovascular care in all its forms."
To be eligible, candidates must conform to the American College of Cardiology code of ethics, have dedicated at last 75 per cent of their professional activities to the cardiovascular field, and must meet rigorous criteria. Examples of the criteria includes years of advanced training in cardiology, demonstrated institutional leadership, extensive research and publication of original work, continuing education, and leadership in professional societies.
"I thank the American College of Cardiology for recognizing the crossover between human and veterinary cardiology," says Côté. "This is a tremendous personal honour."
Côté is a veterinary cardiologist and professor in the cardiology service at AVC. A firm believer in One Health, he has served on numerous committees and task forces, including the American Society of Echocardiography Human-Veterinary Echo Task Force. This task force explored points of commonality and mutual benefit in cross-species echocardiography. He has also been president of the American College of Veterinary Internal Medicine (ACVIM) Specialty of Cardiology. During his tenure, he was charged with overseeing 11 standing committees and helped the ACVIM navigate the early stages of the COVID-19 pandemic.
Côté has authored or coauthored over 40 peer-reviewed journal articles—22 of which were on cardiovascular topics—and has edited or coauthored three textbooks, including the forthcoming editions of Dr. Stephen Ettinger's Textbook of Veterinary Internal Medicine. In 2015, Côté was named a 3M National Teaching Fellow at UPEI.
"Dr. Côté is a leader in veterinary cardiology locally, nationally, and internationally. He has performed innovative surgeries at AVC and has given cardiology patients a new lease on life," says VanLeeuwen. "We are incredibly lucky and grateful to have someone of Dr. Côté's calibre and knowledge providing service, teaching, and research at AVC."
Media Contact
External Engagement Officer
Atlantic Veterinary College