This News Story is more than 1 year old. Links and contact information may have changed.
Puppy receives surgery that is first of its kind at the Atlantic Veterinary College
AVC surgical and cardiology teams performed AVC's first ever atriotomy under inflow occlusion - a technique used for open heart surgery in which all venous flow to the heart is temporarily interrupted.
| Atlantic Veterinary College
Rachel Cutcliffe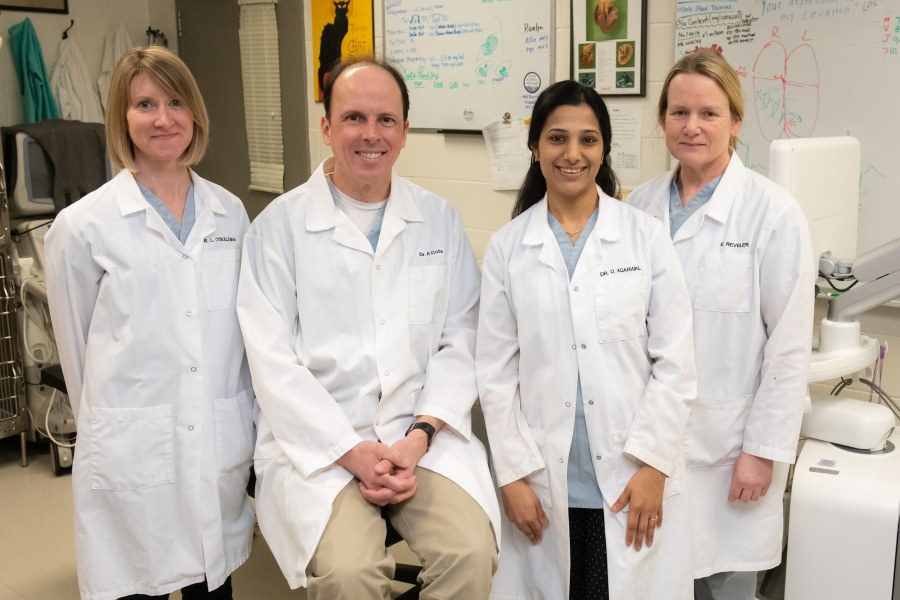 At a puppy's first checkup, veterinarians will perform a physical examination to ensure there aren't any signs of health problems. This allows them to flag anything that might be wrong and then refer services if needed.  
That is exactly what happened in the fall of 2021 when a puppy was referred to the Atlantic Veterinary College (AVC) at the University of Prince Edward Island. The family veterinarian recognized that a puppy had ascites – a condition in where fluid collects in spaces within the abdomen - so it was referred for testing with AVC's Internal Medicine Service.
Under the care of Dr. Stephanie Maloney, small animal internal medicine resident, it was discovered that the puppy's caudal vena cava – a vein that transports all the blood from caudal to the diaphragm back to the right atrium of the heart – was dramatically enlarged. Given this finding, the puppy was put under the care of AVC's Cardiology Service led by Dr. Étienne Côté, professor of cardiology. 
"Dogs have four chambers in their heart, like people – two top chambers (atria) and two bottom chambers (ventricles)," explains Dr. Côté. "But this puppy's cardiac ultrasound revealed that it had three atria – one left atrium and two right atria. Through this test, we were able to diagnose the puppy with cor triatriatum dexter (CTD), with secondary caudal vena caval and hepatic venous distention resulting in ascites."
CTD is a very rare birth defect where the right atrium is divided into two chambers by a membrane that interferes with blood flow. AVC's Cardiology Service sees an average of one case every one or two years. While most dogs with CTD can tolerate it and live a normal life, the puppy was diagnosed with the most severe form. It significantly impaired circulation, and without treatment, it was not expected to have more than one year of good-quality life.  
Determining a treatment option
The severity of the diagnosis was a once-in-a-career case for most veterinarians in private practice. Due to the equipment and resources available at AVC, there was an opportunity to help correct the CTD with two possible treatment options.
The first option, a catheter-based procedure, was a minimally invasive technique similar to angioplasty in people. It would create an opening in the CTD to allow blood to flow better through the heart.
The second option was an atriotomy: an open-chest surgery to surgically open the heart and remove as much of the CTD as possible – a more invasive option.
After much consultation and discussion with various teams at the AVC, and with colleagues across Canada and the United States, the Cardiology, Small Animal Surgery, and Anesthesiology teams decided to proceed with the catheter-based procedure.
Once in surgery, however, the limitation of a minimally invasive approach became all too clear - it was not possible to cross the membrane because the tissue of the CTD was simply too tough, so the procedure was concluded.
"At this point, we had been working together for a solution for over three months," says Dr. Côté. "The puppy and its family had been through a lot already, and this result was not what any of us had hoped for. But the family knew, and we knew, that we needed to help them. The puppy was very fortunate to have a family that was so dedicated." 
The first of its kind at AVC
Three weeks later, the team shifted to the second option. The puppy arrived, good-natured as always, for atriotomy under inflow occlusion – a technique used for open heart surgery in which all venous flow to the heart is temporarily interrupted. This would be the first inflow occlusion ever performed at AVC.
"The combination of expertise here at AVC, equipment, and ideal candidate had not presented itself until now," says Dr. Côté. "This was an opportunity for all of us to change the puppy's outlook from a poor prognosis to a real chance at a normal life.""
The surgery itself required the collaboration of Dr. Adam Ogilvie, associate professor and small animal surgeon; Dr. Katie Hoddinott, assistant professor and small animal surgeon; Dr. Megan Walker, chief surgery resident; and the Cardiology team, in the operating room. Due to the high stakes associated with the surgery, the team would have to be a well-orchestrated, finely tuned machine – and they were.
"The whole time of inflow occlusion, meaning time during surgery from tourniquets being tightened to released, was 100 seconds," says Dr. Sarifa Lakhdhir, senior resident in cardiology and a member of the operating team. "We were able to remove a large segment of the CTD membrane. We were able to see an immediate improvement in the flow of blood through the opening in the membrane."
The puppy's tail still wags when he hears "vet"
The puppy was watched closely through the postoperative recovery to ensure that the new opening remained open over time. The recovery was uneventful, which is the best recovery you can ask for.
Less than 24 hours after surgery, the puppy resumed eating, was on its feet, and was even able to go outside for a short walk. Prior to discharge, it had another echocardiogram which showed that the improvement was maintained.
At its two-week post-operative checkup, the puppy felt better than ever. The Cardiology team was able to see that the benefits of surgery were maintained, and that many of the secondary problems, such as the blood vessel enlargement, had normalized completely.
"This was a positive outcome to a very complicated case, and we are happy to report that the puppy is doing well," explains Lakhdhir. "We are incredibly appreciative to everyone who worked on this case, the family for their dedication, and our donors for supporting initiatives at AVC to purchase equipment that can give a puppy like this one a new lease on life."
---
In total, there were approximately 35 people from eight teams and services who were involved in the puppy's care from start to finish. The veterinary team on this case consisted of the following services at the Atlantic Veterinary College; Cardiology, Small Animal Medicine, Small Animal Surgery, Anesthesia, Radiology, the Intensive Care Unit doctors and technicians, and AVC's animal care attendants.
The team thanks Jennifer Ready (AVC) and Rhonda Garland (Queen Elizabeth Hospital) for facilitating supplies, as well as the students from the AVC Class of 2021 and 2022 for patient care. Additionally, they would like to recognize Dr. Justin Allen, VCA West Los Angeles Animal Hospital and adjunct faculty member in the Department of Companion Animals at AVC; and numerous members of the Veterinary Interventional Radiology and Interventional Endoscopy Society for their invaluable contributions of expertise and advice.   
Finally, they wish to thank the puppy's family for their unwavering trust, dedication, and love.