This News Story is more than 1 year old. Links and contact information may have changed.
All that glitters: Charlottetown teen pays it forward
Grade nine student Eva MacNeill marries her interest in veterinary medicine and her passion for fashion to help pets in need.
| Atlantic Veterinary College
Rachel Cutcliffe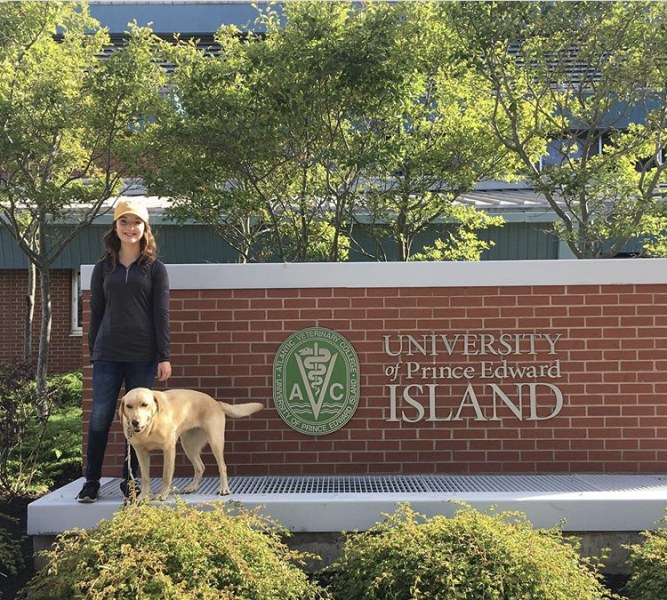 People give back for a variety of reasons – to make a difference, because it feels good, because they feel a sense of duty, to name a few. But 15-year-old Eva MacNeill likes to give back so she can pay it forward.
"Others have given me so much, whether it's been their time, support, or guidance, that I wanted to find a way to help others," explains MacNeill.
At five years old, MacNeill knew she wanted to be a veterinarian after attending her first Atlantic Veterinary College (AVC) Open House. She remembers being fascinated by everything she saw and experienced. Now, her annual tradition is to attend AVC Open House and take a photo in front of the AVC sign or with a beagle.
From an early age, she knew she would need to be intentional about gaining experience and knowledge that would help achieve her dream of attending AVC. Last year, she had the opportunity to attend the Dr. Tim Ogilvie AVC Vet Camp, which reinforced her career plans of becoming a small animal veterinary surgeon. But she wanted even more first-hand experience, so she turned to her neighbours – Dr. Megan Walker, a small animal surgery resident at AVC, and Dr. Stewart Higginbotham, a veterinarian at the Charlottetown Veterinary Clinic - for guidance and support.
"I am fortunate to have them as neighbours," explains MacNeill. "Dr. Higginbotham has taken the time to help me gain first-hand experience by letting me shadow him at his clinic, and Dr. Walker has shared her skills and knowledge with me to help me get involved in veterinary medicine."
As a grade nine student at Grace Christian School, MacNeill has already shadowed over 24 hours at the Charlottetown Veterinary Clinic, where she watched surgeries and helped with various procedures. During her time at the clinic, she realized there was a way she could help others and lean into her other passion – fashion.
"I decided to make earrings, sell them, and then donate a generous portion of the sales to families who might need help paying for their pet's surgery," says MacNeill. "I am hopeful that I would get to meet the families that use these funds, and that I might even have the opportunity to observe their pet's surgery."
With the help of her twin sisters Leah and Lauren, MacNeill is making a variety of earrings and taking orders through her Instagram page - @drippin.in.finesse. Currently, they are well on their way to making a minimum donation of $500 to both the AVC Veterinary Teaching Hospital and the Charlottetown Veterinary Clinic by the end of the school year.
"Giving back is something that's been fostered in me as a student at my school," says MacNeill. "I've learned that being generous not only benefits those who receive the gift, but it is also a blessing to me."