Shoot for the Cure goes virtual again in 2022
Support UPEI Women's Basketball in fundraising effort to fight breast cancer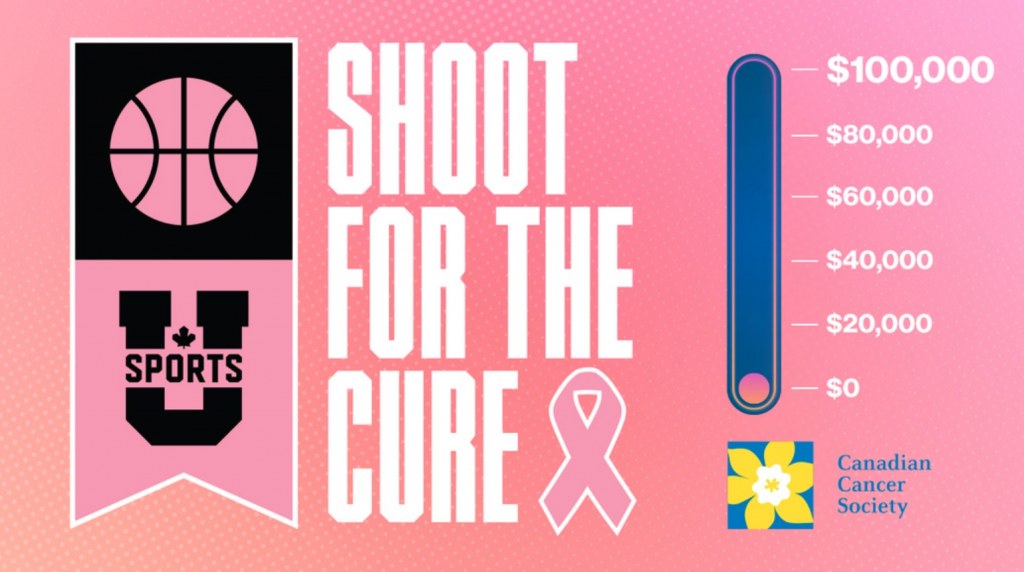 U SPORTS, the governing body for university sport in Canada, has announced that the 15th edition of Shoot for the Cure will be held virtually once again due to the COVID-19 pandemic, from January 17–30, 2022.
Organized since 2007 in collaboration with the U SPORTS Women's Basketball Coaches' Association, the fundraising initiative raises money for the Canadian Cancer Society (CCS) and other related local and provincial charities to help fight breast cancer.
The UPEI Women's Basketball team, led by student-athletes Madison Orser and Lauren Rainford, is joining the effort by taking its fundraising initiatives online. Supporters may donate directly to the UPEI Basketball fundraising page on the CCS Shoot for the Cure website, or participate in UPEI's Shot4Shot Challenge on social media.
Orser and Rainford will tip off the Shot4Shot Challenge by posting fun videos of themselves on Instagram using everyday items to make a shot (i.e., throwing a ball of paper into a trash can) and pledging a small amount towards the cause. Those who are tagged in the video are then challenged to make their own separate videos and continue to tag three more people on social media.
Orser and Rainford's goal is to have every member of the Panther Sport teams nominated.  
"The COVID-19 pandemic has challenged us to think of new ways to support the breast cancer society," said Orser. "We hope that by doing the Shot4Shot Challenge, we can continue to spread awareness and raise money for breast cancer research, and have fun while doing it."
"The ongoing support of U SPORTS women's basketball since 2007 is so appreciated. The ongoing commitment of these young adults in their support of the breast cancer cause is admirable," said Jane Parsons, Regional Executive Director Atlantic for the Canadian Cancer Society. "Each year, funds raised through Shoot for the Cure support gold-standard breast cancer research in areas of risk reduction, screening, diagnosis, prognosis and treatment."
Go Panthers Go!