Your search has returned no results.
Dr. John VanLeeuwen named Interim Dean of the Atlantic Veterinary College
The Vice President Academic and Research announced that Dr. John VanLeeuwen will serve as Interim Dean of the Faculty of Veterinary Medicine and Atlantic Veterinary College.
| Atlantic Veterinary College
Rachel Cutcliffe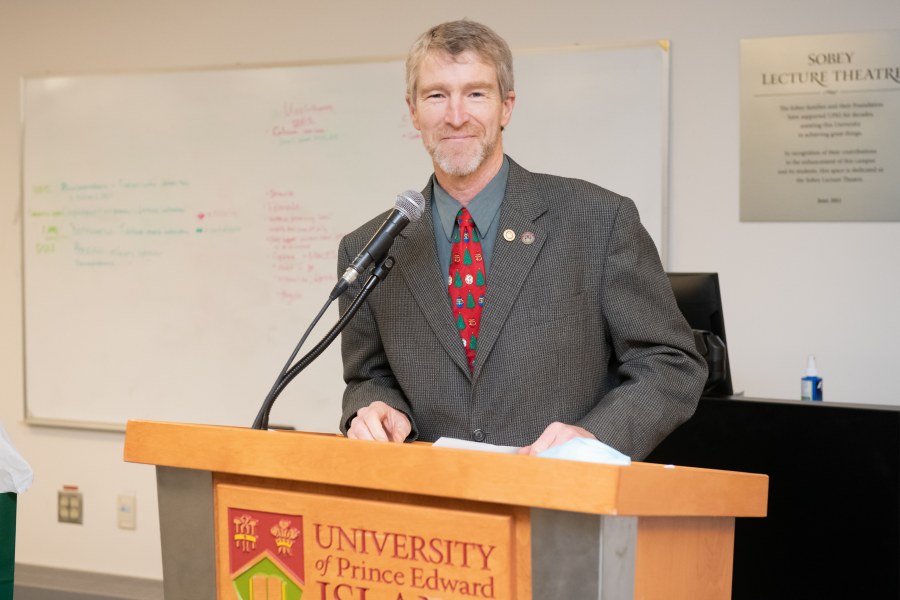 The Atlantic Veterinary College, University of Prince Edward Island, is pleased that Dr. John VanLeeuwen accepted the role as Interim Dean of the Faculty of Veterinary Medicine and the Atlantic Veterinary College (AVC), effective December 13, 2021.  
VanLeeuwen holds the degrees of Doctor of Veterinary Medicine, Master of Science, and Doctor of Philosophy (PhD) in epidemiology from the Ontario Veterinary College at the University of Guelph. Before completing his PhD, VanLeeuwen worked as a veterinarian in Nova Scotia and Ontario for four years.
VanLeeuwen came to the Atlantic Veterinary College in 1997 as a professor of epidemiology and ruminant health management and has served as both a farm service clinician and an epidemiologist. Throughout his time as a professor, he has been a primary supervisor or served on a supervisory committee for over 120 graduate students, undergraduate students, and veterinary residents in farm service.    
VanLeeuwen is a well-respected researcher and instructor, serving as either a lead or collaborator on national and international research and service projects tallying over $53.2 million. He has over 100 peer-reviewed journal articles and eight books or book chapters, as well as numerous discussion papers, technical reports, and lay extensions. He is also a regular presenter at conferences, events, producers' groups, and other organizations. His areas of research include infectious and non-infectious diseases involving ruminant health management and One Health.
He has held or holds numerous positions provincially, regionally, nationally, and internationally including Chair of the Department of Health Management at AVC; Past Chief Research Officer of PEI Health Research Institute; Past President of the Canadian Association of Veterinary Epidemiology and Preventive Medicine; Past Canadian Director of the Production Limiting Diseases Dairy Research Project; Past Director of the Centre for Veterinary Epidemiology Research; Past Chair and Board Member of Veterinarians without Borders-Canada; Past President and current Project Committee Member of Farmers Helping Farmers; and Scientific Program Chair of the International Symposium for Veterinary Epidemiology and Economics '22.
VanLeeuwen is also the leader of an international smallholder dairy health management program in several countries but with its primary focus in Kenya. He is a highly respected mentor and community partner, most recently being named the Charlottetown Rotary Club Mentor Award winner, which recognizes vocational contributions and service to society.    
"I am honoured to become the Interim Dean of the Atlantic Veterinary College," says VanLeeuwen. "I look forward to working with faculty, staff, students, researchers, alumni, and the various internal and external stakeholders of AVC as we pursue our goals in teaching, research, and service."
Media Contact
External Engagement Officer
Atlantic Veterinary College