Taylor Gillis and Troy Lajeunesse named Panther Subway Athletes of the Week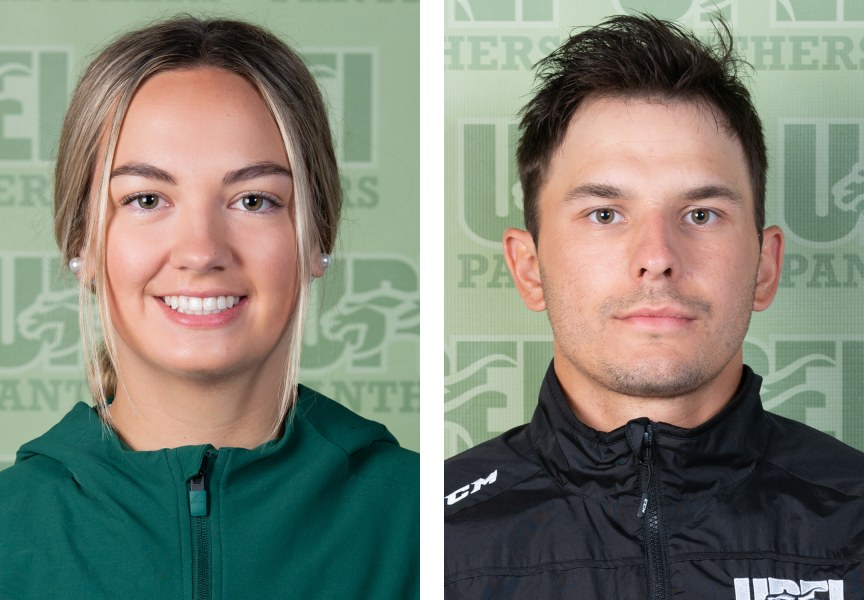 Every week, UPEI Athletics and Recreation recognizes two student-athletes for their achievements and dedication to their respective sports. This week's UPEI Panther Subway Athletes of the Week for November 21 to 28 are Taylor Gillis (women's hockey) and Troy Lajeunesse (men's hockey).
Gillis is a third-year Faculty of Business student from Summerside, PEI, and a forward on the UPEI women's hockey team. She had a phenomenal week, scoring three goals and an assist in two wins. Gillis stepped up in a big way in Sunday's 4–2 win over the top-ranked Saint Mary's Huskies, scoring two goals and an assist. "Taylor has had a strong first half but really played a key role in both wins last week," said head coach Bruce Donaldson. "Taylor's compete level was at 100 per cent. She was hard to play against and finished when we needed a big goal. It was so great watching her this past week."
Lajeunesse is a third-year Faculty of Arts student from Dokis, Ontario, and a forward with the UPEI men's hockey team. He had a great weekend and consistently found himself on the scoresheet. In two games, he recorded two goals and two assists. Most of that production came in Saturday night's win over the Dalhousie Tigers, as he finished with two goals and an assist, including the game-winning goal. "Troy has been one of our most consistent forwards all season long," said head coach Forbes MacPherson. "It was great to see him get rewarded on Saturday night against Dalhousie. It was a big win, and Troy played a significant role."
Go Panthers Go!