Your search has returned no results.
Panthers ride Ellsworth's star power on historic night
| Athletics
Thomas Becker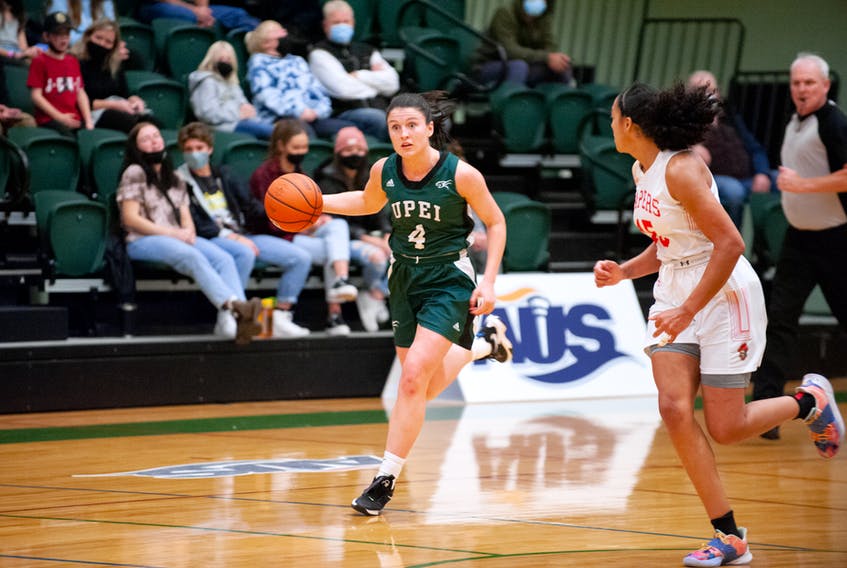 On a night when Jenna Mae Ellsworth became UPEI's all-time leading scorer, the Panthers made easy work of the Cape Breton Capers in an 80-46 win. 
Ellsworth broke Jennifer Johnston's record with 49 seconds remaining in the first half, when she drove hard to the basket and made a tough layup for points 1,359 and 1,360. Ellsworth recorded her second double-double of the season, as she finished with a game-high 25 points and 10 rebounds in just 29 minutes of action. 
After the game, the fifth-year guard reflected on the milestone.
"I'm very grateful for everything this school and everyone in the community has given me. I'm very proud to be a Panther," Ellsworth said. "I credit my teammates and the coaching staff for getting me here. I'm surrounded by a great group of people, and I couldn't do it without them." 
Panthers head coach Matt Gamblin spoke briefly about Ellsworth's impact on and off the court and her role as one of UPEI's all-time greatest athletes. 
"It's not just the team; it's the program and the school she represents," he said. "She's a leader in every sense of the word, and her influence really does go beyond the team."
While the night belonged to Ellsworth, it was her teammates who got things started early. Rookie guard Grace Lancaster got off to a hot start scoring seven of the Panthers' first 11 points to spot them an early nine-point advantage. 
A Cape Breton timeout shortly after did little to stop the bleeding, as Ellsworth went to work and connected on two triples before setting up another one to make 30-6. Seven Panthers scored in the quarter where they shot a blistering 61.9 per cent from the field, as they led 30-9 after one.
Both teams struggled to score early in the second, and it wasn't until the 4:17 mark when the Capers (2-4) finally scored to start a 6-0 run that trimmed the deficit to 15. With the Panthers (6-0) scuffling offensively, Ellsworth stepped up and scored nine of the next 13 points for her team, as they carried a 43-23 lead at halftime.
Ellsworth continued where she left off, scoring eight of UPEI's opening 13 points of the third quarter to push the lead to 56-30. Lauren Rainford followed Ellsworth's lead and scored eight straight points to make it 66-34. Rainford finished with 16 points, 10 of which came in the quarter.
With the game in hand at the start of the fourth, both coaches went deep to their bench to close out the lopsided affair.
After allowing the Capers to shoot over 50 per cent the night before, the Panthers dialled in on their defence and shut their opponent down. Cape Breton was limited to just 46 points on 27.4 per cent shooting, and fifth-year centre Carolina Del Santo was a big reason why, as she finished with 15 rebounds, four blocks and four steals to go along with four points and six assists. Del Santo keyed in on rookie big Kiyara Letlow, who was limited to 10 points after going 12-for-12 24 hours prior. 
"We knew we needed to make adjustments," Del Santo said. "We've been working a lot on our defence. Communication is always key to a strong a defence because it helps with our rotations and makes us better."
The Panthers look to make it seven straight wins when they travel to Wolfville to take on the Acadia Axewomen Friday night.