Your search has returned no results.
Del Santo and Maher named UPEI Panther Subway Athletes of the Week, November 8–14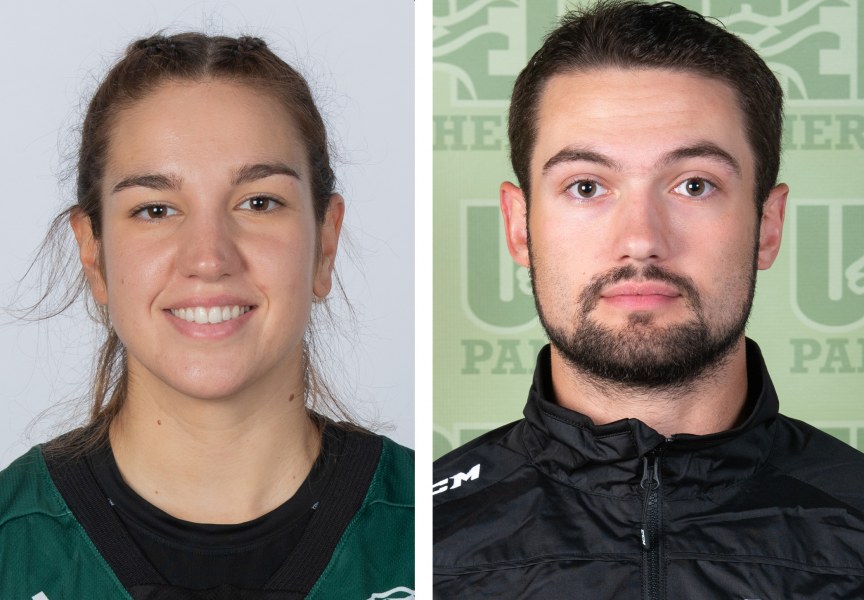 Every week, UPEI Athletics and Recreation recognizes two student-athletes for their achievements and dedication to their respective sports. The UPEI Panther Subway Athletes of the Week for November 8 to 14 are Carolina Del Santo (women's basketball) and Jordan Maher (men's hockey).
Del Santo is a fifth-year business student from Barcelona, Spain, and a 6'1" centre on the UPEI Women's Basketball team. As the team's defensive anchor, Del Santo averaged 5.0 points, 12.0 rebounds, 5.0 assists, 3.0 blocks, and 2.0 steals in the team's two wins over the Cape Breton Capers. The Panthers remain undefeated and lead the conference at 6–0.
"Carolina had a great weekend against CBU," said Matt Gamblin, head coach of UPEI Women's Basketball. "She executed our adjustments well during game two and is continuing to expand her offensive production and aggression."
Maher is a second-year business student from Gander, Newfoundland and Labrador, and a forward on the UPEI Men's Hockey team. He recorded two goals (20 seconds apart) and an assist in the 9–1 blowout against the U SPORTS-ranked St. Francis Xavier X-Men on Friday, November 12.
"Jordan had a good week for us. We bumped him up to the centre position, and he did a great job," said Forbes MacPherson, head coach of UPEI Men's Hockey. "This week he was able to contribute offensively, especially in the game versus St. FX. He scored a couple of quick goals that set the tone for the night. A very good week for Jordan!"
Go Panthers Go!