Your search has returned no results.
Camille Scherger and Elijah Miller named Panther Subway Athletes of the Week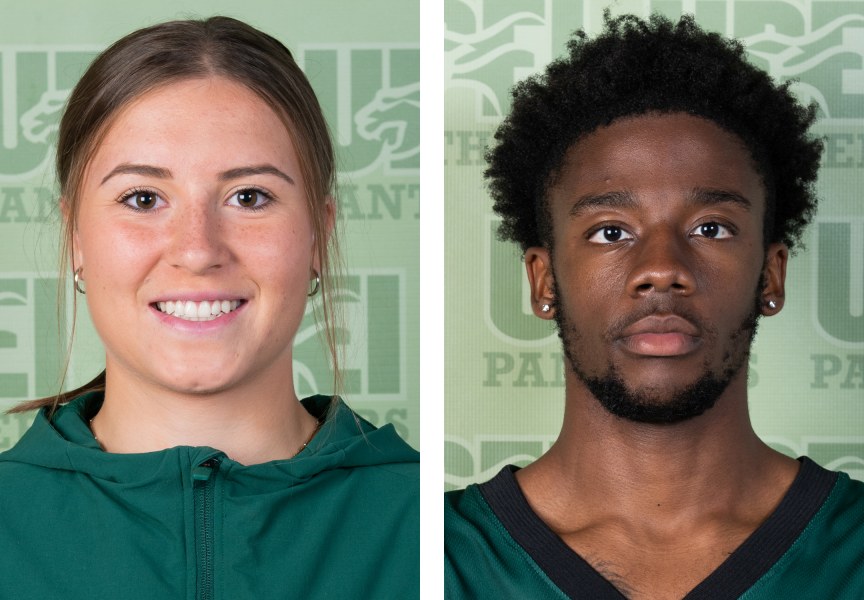 Every week, UPEI Athletics and Recreation recognizes two student-athletes for their achievements and dedication to their respective sports. The UPEI Panther Subway Athletes of the Week for November 15 to 21 are Camille Scherger (women's hockey) and Elijah Miller (men's basketball).
Scherger is a fourth-year science major from Lloydminster, Alberta, and a goaltender on the UPEI women's hockey team. After missing the start of the season, Scherger returned to her All-Canadian form this weekend when she allowed just one goal in two games, including a shut-out against the first-place UNB Reds. In two games, she recorded 41 saves, with a 0.976 save percentage and a 0.51 goals-against average. "In both games, she made several key saves to give us an opportunity to win," said head coach Bruce Donaldson. "When she plays this way, it gives the entire team confidence. You can feel it on the bench."
Miller is a second-year business major from Rexdale, Ontario, and a point guard on the UPEI men's basketball team. He led his team to a huge eight-point weekend, with road wins against the Acadia Axemen and the Saint Mary's Huskies. The Panthers now sit in second place in the AUS. In the two wins, Miller averaged 19.5 points per game on 48.3 per cent shooting with 6.0 rebounds and 3.5 assists. "What I'm most impressed with is Elijah's ability to positively impact the game in a variety of areas," said head coach Darrell Glenn. "He's not only our leading scorer, but he's fifth in the conference in field goal percentage. He's among the top 15 rebounders in the conference. He leads the conference in assists per game, and he's second in steals. He has quietly put together an impressive start to the season."
Go Panthers Go!