Your search has returned no results.
Panthers at Home on October 8 and 9
Men's and Women's Hockey home-openers and rematch with Acadia for Women's Rugby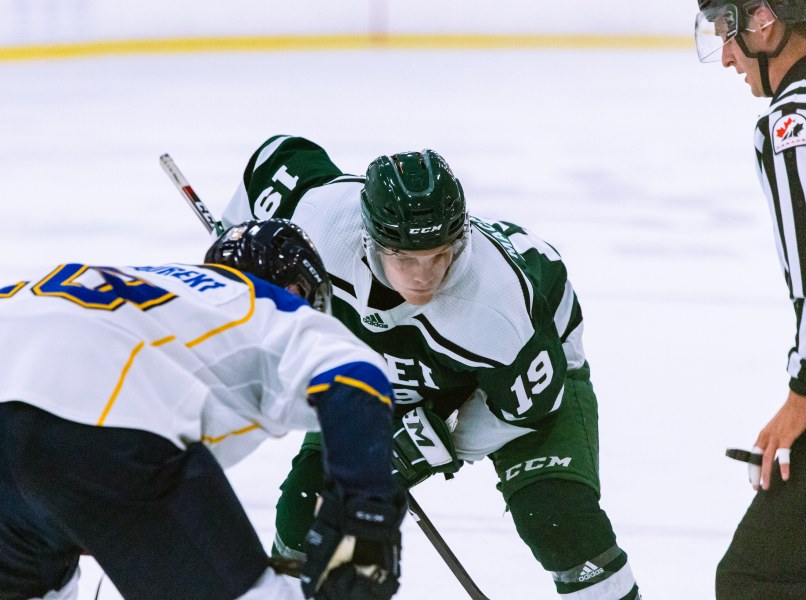 It's home-opener weekend for UPEI Women's and Men's Hockey! UPEI Women's Rugby is also looking to improve its 2–2 season record with a home game on MacAdam Field in UPEI Alumni Canada Games Place.
The weekend kicks off on Friday night when the men's hockey team hosts the University of New Brunswick at 7 pm in the MacLauchlan Arena. Head coach Forbes MacPherson is looking forward to putting his young team to the test.
"One of the great things about sports is the anticipation of a new season," he said. "It seems that this year that comment is magnified because we lost last season! We have a very young team, and we know there will be some time needed for growth. We are focusing on the process and very excited to get the season started."
Women's Rugby looks to even up its record this season with Acadia during their match on Saturday at MacAdam Field, starting at 2 pm.
"The team and I are very excited to be back playing at home this weekend after three long weeks of competing on the road," said head coach James Voye. "We are looking to build on the strong start to the season and the performance we had in Wolfville three weeks ago with hopes of putting ourselves in a position to win against Acadia. If we continue to play tough defence and are able to maintain possession and make good decisions on attack, it should be a very competitive match. I know the team is 100 per cent up to the challenge."
UPEI Women's Hockey hosts its home-opener on Saturday against Mount A at 7 pm in MacLauchlan Arena. Head coach Bruce Donaldson says the team is excited to play. They're 3 for 4 in pre-season play and are fresh off a team camp experience at Camp Triumph in Malpeque Bay.
"We are very pleased with the level of play in practice and their overall commitment to fitness," said Donaldson. "The program has been very busy since arriving on campus, and now it's time to put all that effort into meaningful games. Our leadership group starts with our captain Sophie Vandale, as well as assistant captains Ally Clements, Taylor Gillis, and Sydney Lyndon. Our goalie position is anchored by Camielle Scherger and Shaylin McFarlane. Upfront, we have veterans Jolena Gillis, Lexie Murphy, and Kelly Clements along with some new additions: Abby Beales, Chiara Esposito, and McKinley Nelson. We look for our depth within the line up to show up and really help spread out the workload so that all our lines are hard to play against."
Visit gopanthersgo.ca for ticket information. All attendees over the age of 12 must provide proof of vaccination at the gate.
For ticket information, visit gopanthersgo.ca.
Go Panthers Go!