Your search has returned no results.
Paige Chisholm and Samuel Akinsola named Panther Subway Athletes of the Week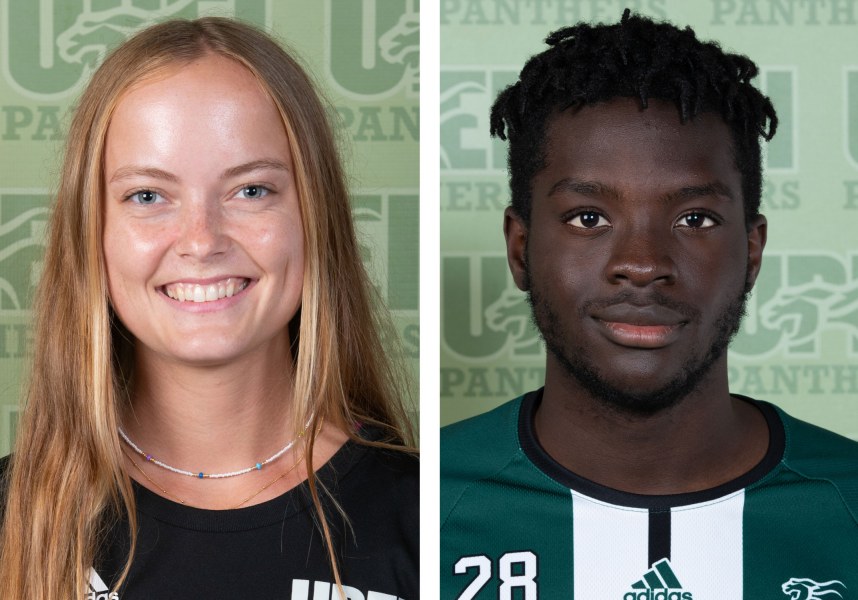 Every week, UPEI Athletics and Recreation recognizes two student-athletes for their achievements and dedication to their respective sports. This week's UPEI Panther Subway Athletes of the Week for September 27 to October 3 are Paige Chisholm (Cross Country) and Samuel Akinsola (Men's Soccer).
Hailing from Port Williams, Nova Scotia, Chisholm is a first-year Doctor of Veterinary Medicine student at UPEI's Atlantic Veterinary College and a member of UPEI's Cross Country team. She finished third in the 8 km race at last weekend's Acadia Invitational race, earning her a second Athlete-of-the-Week nod of the season.
"Paige ran a brilliant race at Acadia on the weekend," said Mike Peterson, head coach of UPEI Cross Country. "We decided to go out a little more conservatively and to use her tremendous closing speed to her advantage. She executed the plan nearly perfectly, as she closed a huge gap on the second-place runner and finished right behind her. Paige is working very hard, and I'm excited to see how things unfold over the rest of the season."
Akinsola is a first-year science student from Charlottetown and a rookie striker on the UPEI Men's Soccer team. He scored the tying goal in the Panthers' 1–1 draw with Cape Breton on Sunday afternoon.
"Samuel is an exciting rookie for Men's Soccer," said head coach Lewis Page. "He loves to score goals and came up with a huge one versus CBU."
Go Panthers Go!