Your search has returned no results.
UPEI announces the Panther Subway Athletes of the Week, September 13 to 19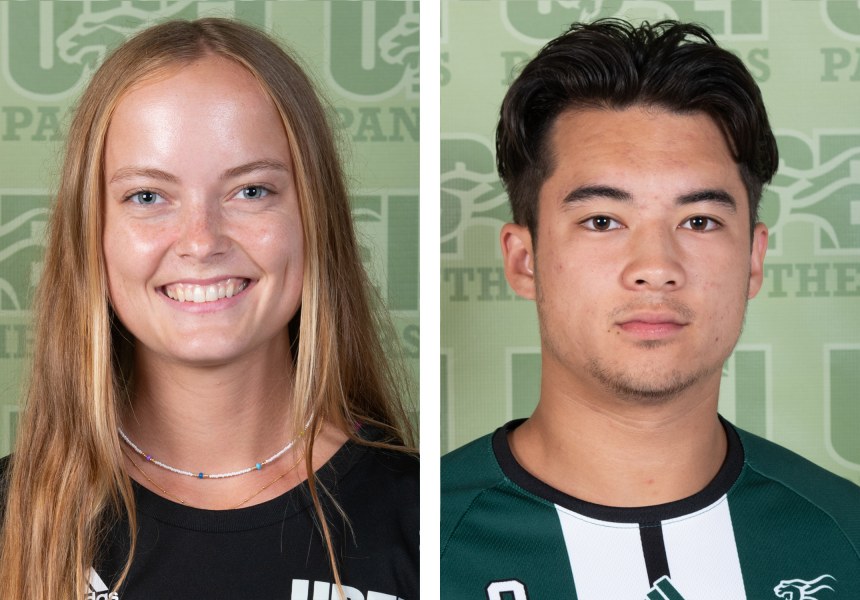 Every week, UPEI Athletics and Recreation recognizes two student-athletes for their achievements and dedication to their respective sports. Paige Chisholm and Nathan Chow are the UPEI Panther Subway Athletes of the Week for September 13 to 19.
Paige Chisholm is member of the UPEI Cross Country team and a fifth-year Doctor of Veterinary Medicine student at the Atlantic Veterinary College. The Port Williams, Nova Scotia native finished second in the 6 km race at the St. Francis Xavier University Invitational.
"Paige ran a really smart race by holding a fast but comfortable pace for the first 4 kilometres and hanging tough in the last 2 , despite the humid weather," said coach Mike Peterson. "She brings so much to the team, both on the cross-country course and behind the scenes. We are lucky to have her!"
Nathan Chow is a second-year winger on the UPEI Men's Soccer team and a kinesiology major from Campbell River, British Columbia. Chow scored the game-winner in the Panthers 1-0 win over Acadia this weekend. "Nathan had an outstanding game against Acadia," said head coach Lewis Page. "He showed tremendous spirit and leadership to go along with scoring the game winner."
Go Panthers Go!