Your search has returned no results.
SEASON PREVIEW: With renewed belief, Women's Soccer Panthers look to snap playoff drought
| Athletics
Thomas Becker, GoPanthersGo.ca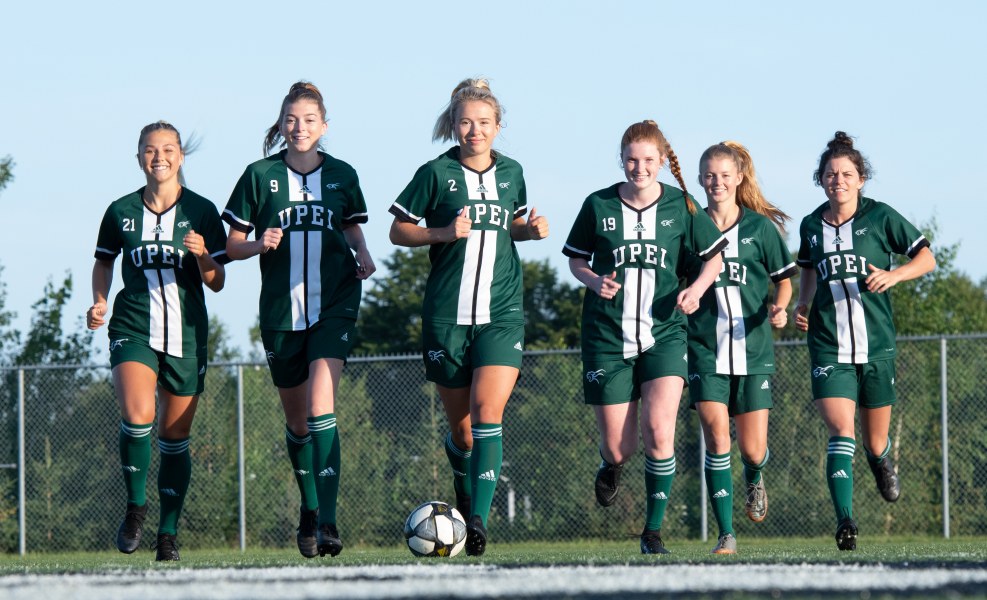 If the exhibition results are any indication, the UPEI Women's Soccer Panthers should be a fun team to watch this season.
Head coach Lewis Page was pleased to watch his team finish the preseason slate with a 2–2–0 record, including impressive wins against St. FX and UNB—two teams expected to sit atop the Atlantic University Sport (AUS) standings.
The biggest difference Page has seen from his squad since becoming their coach in 2020 has been their drive to win.
"They've really raised their competitive desire to a higher level, and it's exciting to watch," he said.
Veteran players like Tyffanie Bordage, Laura Burge, Lauren Clark, Madison Hurley, and Rachel Green, for example, have a renewed sense of purpose after dealing with a revolving door of coaching staffs in recent years.
"They want to prove what they're capable of," Page said. "I think they feel like they haven't shown the league what they're truly capable of, and this is their opportunity to do it."
Working with three different coaches—each with their own philosophy—in four years would be tough on any athlete, but Page, who also coaches the men's team, may be the fit they've been looking for all along.
"The biggest difference with Lewis as our coach is the experience he brings. It's like he always knows exactly what to say in every situation, whether good or bad," Bordage said. "He seems to always find a way to get the message across effectively. I've learned so much from him already, and I believe he's given us a winning mindset."
That winning mentality was on full display last week when they outscored St. FX and UNB by a combined score of 6–3, while creating several other scoring opportunities. It would be understandable if long-time fans did a double take when scouring through the scores. That offensive firepower, while a welcome sight, just hasn't been seen in a while.
Page said he wants his team to play a fast and aggressive style instead of waiting for the opposition to strike, and so far, it has paid off.
"We're going to play a high-tempo game," he said. "We want to make life uncomfortable for the opposition when we don't have the ball, and when we have it, we're going to get to the net as quickly as we can."
Still, the youthful Panthers must find a way to be more consistent. While the first two preseason games ended on a high, the last two ended in shutouts.
"We've been really good in stretches, but we need to keep that standard up for a longer period," Page said. "The fact that we kept fighting until the end of each of those games was a huge plus."
While stats and numbers are fun to dissect and analyze, the true strength of Page's team may be what comes from within and the connection the players formed during a lost COVID-19 season.
"We have a strong team bond, and we're going to continue to support and push each other to be our very best," said Burge, who will lead the defensive group in her fourth year with the club.
With a new approach on the field and a strong belief off it, the Panthers hope to finally break that six-year playoff drought. And for veterans like Burge, a taste of the postseason would be a great bookend to a career.
"This is the strongest team we've had in my time at UPEI, and the girls are prepared to do whatever it takes to get there," she said. "It's definitely going to take a lot of discipline, but we're going to take things one game at a time and focus on what we do well."