Your search has returned no results.
Three Oaks star Emily McKenna brings added dimension to UPEI Women's Rugby
| Athletics
Thomas Becker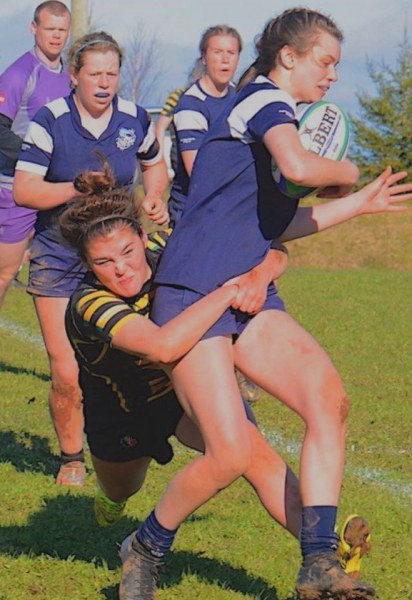 The Three Oaks Senior High Female Athlete of the Year—Emily McKenna—is joining the UPEI Panthers. And she's doing it as a rugby player.
After going through possible scenarios, McKenna—a three-sport athlete with the Three Oaks Axewomen—ultimately decided to pursue rugby at the next level, citing her love of the sport as the deciding factor.
"Just about everything about the sport piques my interest," McKenna said. "The intensity is one of my favourite parts. I play every sport with a high intensity level, but sometimes you don't get the same level in return."
Unlike soccer and basketball, rugby wasn't part of McKenna's sports identity until high school. The art of catching and throwing the ball in stride came naturally to her as she quickly turned heads at Three Oaks.
McKenna started out at single-A in her freshman year but was quickly scooped up by the school's triple-A team, where her talent flourished, and the accolades began to pour in. By season's end, she was named the team's most valuable player while also earning an all-star nod.
Axewomen head coach Tim Hockin said it takes an exceptional athlete to make the jump to triple-A so quickly, but McKenna pulled off the feat few could.
"Emily's athleticism caught our attention in Grade 10. She had good size and speed and we felt she could handle the physicality of the triple-A level."
That success followed her in the ensuing years, as Hockin entrusted her with a leadership role. Not only did she rule the field during the 2021 season, but she also commanded the locker room, and in the end, the Summerside native guided the Axewomen to their first provincial title since 2018.
"Emily was an obvious choice for captain, not only due to her athleticism, but also her understanding and passion for the game," Hockin said.
Those attributes are exactly what appealed to Panthers head coach James Voye and why recruiting her was a priority in the offseason.
"Emily is going to bring some much-needed size and athleticism to the backline this fall," Voye said. "She's going to be a solid player for the Panthers and I'm excited for her to arrive at camp."
Known for their grit and grind style of play, Voye knows his team can compete with anyone physically. That's why the last two recruitment classes have been focused on the finesse side of the game. Simply put, the Panthers need to find a way to score consistently and keep the ball out of the opposition's hands. With the additions of McKenna, Charlotte Branchflower, and last year's big-name recruit Emma MacLean, UPEI may have added that much-needed dimension to their game to close the gap between them and rival schools, St. Francis Xavier and Acadia.
"I certainly have been trying to recruit more dynamic players who know how to finish and how to score," Voye said. "A big part of that is adding the right players in those decision making, scoring positions and then complementing them with players of a similar skill set."
This summer, McKenna put her finesse game to the test after earning a spot on PEI's Canada Games 7s team. 7s rugby is significantly different than 15s as it is typically faster and includes more explosiveness and 1-vs-1 opportunities. That ability to play with speed and vision is precisely what Voye has been looking for in his recent recruits.
For McKenna, this experience certainly makes her a more valuable player for UPEI, but more than that, it's a chance to wear her province's colours, something she doesn't take lightly.
"I'm extremely honoured just to be able to train with this team," she said. "If you had told me in Grade 10 that I would be on the Canada Games team, I never would have believed you."
From the opening kickoff, the Panthers will surely be stronger with McKenna's inclusion, and the idea of becoming a key piece of a team close to home was too enticing to ignore.
"I had multiple universities in mind and had no clue at all where I wanted to go. But after Coach Voye asked me to play, the decision was made almost instantly."