Your search has returned no results.
Men's Hockey Panthers add scoring threat in former Owen Sound Attack forward Kaleb Pearson
| Athletics
Travis Becker, GoPanthersGo.ca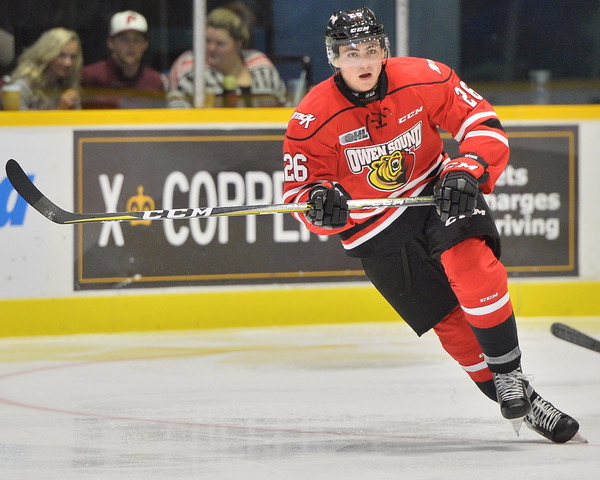 After AUS all-star Kameron Kielly decided to go pro in 2020–21, the UPEI Men's Hockey Panthers lost firepower. But Panthers head coach Forbes MacPherson is hoping his latest recruit can help fill that void.
Enter Kaleb Pearson, a 21-year-old right winger with a knack for putting the puck in the back of net.
"I think my greatest strength as a hockey player would be my offensive ability and awareness," Pearson said. "I'm a guy who wants to win. I can help by making plays and scoring goals and I hope to be part of the team that brings a championship back home to PEI."
Pearson joins the Panthers after two impressive seasons with the Ontario Hockey League's Owen Sound Attack where he was a focal point in the team's offence, often finishing off plays.
In 128 OHL games, the Saint Marys, Ontario native put up 42 goals and 38 assists. His second season saw a spike in his points per game average as he improved from 0.42 to 0.84, proving he can adjust to a league quickly, which bodes well for a Panthers team in need of more offensive production.
"I think the biggest thing for me is my confidence level," he said. "Joining a new league is always tough but being put into new situations forces me to adjust and figure out new ways to get things done."
Throughout the recruitment process, Panthers head coach Forbes MacPherson saw a lot of potential in Pearson and now considers him to be a vital piece to the team moving forward.
"He's a typical power forward that is very hard to play against and has high-end finish around the net," MacPherson said. "We project Kaleb to score many goals in this league."
While he is expected to come in and score goals, it wouldn't be fair to ask him to lead the team in scoring. The success of this team will ultimately hinge on balance and production throughout the lines. With the additions of Pearson and last year's recruits Brodie MacArthur, Carson MacKinnon, and Jaden Peca, the Panthers are becoming a much deeper team at forward.
"We won't be relying on just a couple of players. This will be production by committee. It will be up to everyone to prepare and push for their role and responsibility."
Still, Pearson's skillset projects him to be a top-six forward as early as this year, which is an exciting possibility to ponder, and an opportunity Pearson isn't taking lightly.
"Right away I'm going to compete and battle. I don't expect anything to be given to me and I'm going to work for everything I get," Pearson said. "I'm going to do the little things right away—stopping on pucks, finishing checks, and capitalizing on my offensive opportunities."
After capturing just 10 wins in 2019–20, MacPherson has been hard at work trying to build a roster that can rise in the standings, and his passion for winning was a big reason why Pearson was drawn to UPEI.
"Once I spoke with Coach MacPherson it was an easy decision for me. He's a guy who wants to win and that's the biggest thing I want in a coach."