Your search has returned no results.
UPEI's Dr. Marya Ahmed named a 2020 Emerging Scholar by the Canadian Cancer Society
Award aims to advance promising early-career scientists and is valued at $600,000 over five years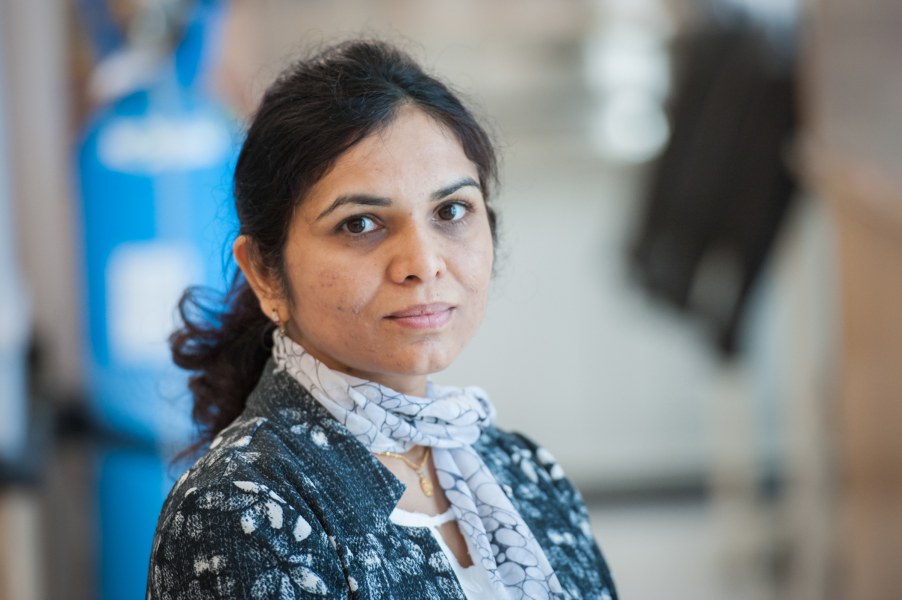 Dr. Marya Ahmed, an assistant professor of chemistry at UPEI, has been named one of 15 Emerging Scholars by the Canadian Cancer Society for her research to develop a dual-targeting strategy for the treatment of breast cancer. The award is valued at $600,000 over five years.
Dr. Ahmed is exploring methods to use short strings of amino acids, known as peptides, to treat one of the most aggressive forms of breast cancer: HER2. These peptides have the potential to precisely deliver two types of small nucleic acids to effectively delete the growth proteins and block the growth pathways used for breast cancer cells. The present therapies available for HER2 breast cancer are prone to cardiac toxicity and do not address the issue of drug resistance to prevent recurrent tumours. Dr. Ahmed's approach will focus on a complete knockdown of HER2 and 3 and is expected to reduce the chances of recurrent tumours.
"In comparison to traditional approaches, which involve multiple (toxic) drugs delivered non-specifically throughout the patient's body, the proposed peptide-based delivery system can significantly reduce the drug dosage and provide a less damaging treatment for breast cancer," said Dr. Ahmed. "As a result of this research, I hope to develop a multidisciplinary approach for the treatment of breast cancer."
"I want to congratulate Dr. Ahmed for winning this competitive award. This is a major accomplishment and a serious boost for one of our most exciting new researchers," said Dr. Katherine Gottschall-Pass, interim vice-president academic and research at UPEI. "It's gratifying to me knowing this research—with the potential to make a real difference to people living with cancer and their families—is being done right here at UPEI."
"Supporting promising young cancer researchers today is crucial to ensuring that we continue to drive progress against cancer tomorrow and in the decades to come," said Dr. Judy Bray, vice-president of research at the Canadian Cancer Society. "That's why, thanks to our supporters, we are investing in the next generation of researchers to accelerate change in preventing cancers and helping people with and beyond cancer live longer, fuller lives."
The Emerging Scholar Award was established in 2019 to advance promising early-career scientists and clinical scientists from across Canada with a focused commitment to undertaking cancer research. The highly competitive application process resulted in 15 awards across the country, including just three in Atlantic Canada.