This page is more than 1 year old. Links and contact information may have changed.
UPEI's Dr. Ann Braithwaite named a 3M National Teaching Fellow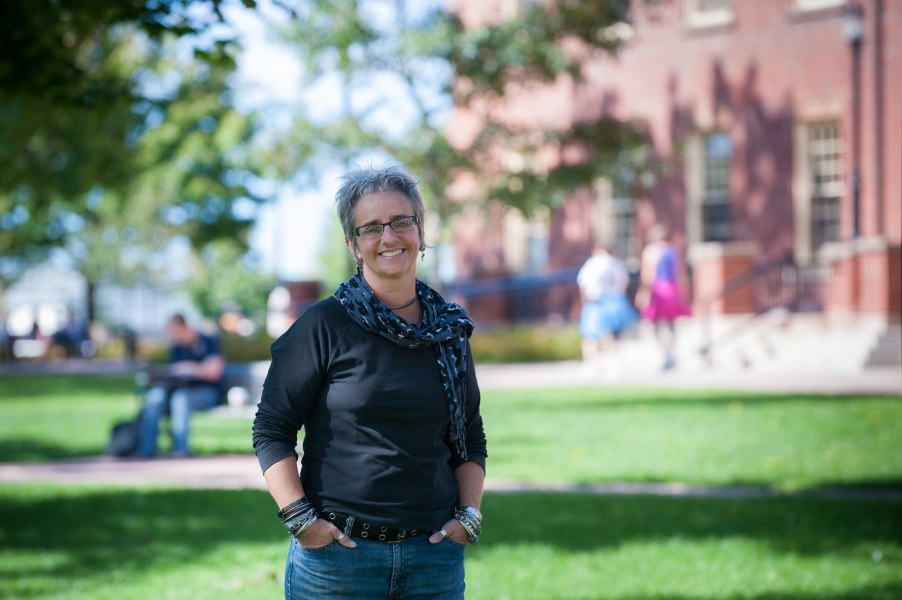 The University of Prince Edward Island is excited and proud to share the news that Dr. Ann Braithwaite, professor of Diversity and Social Justice Studies in the Faculty of Arts has been named a 2021 3M National Teaching Fellow by the Society for Teaching and Learning in Higher Education (STLHE) and 3M Canada.
Each year, STLHE and 3M Canada reward exceptional teaching and learning at Canadian universities by selecting ten teaching fellows. Dr. Braithwaite was nominated for the prestigious award by her UPEI colleagues, who describe her as exceptional and someone who works with "infectious and generative joy to build questioning and inclusive communities." She is well-known for her innovation and leadership on campus and across the continent.
Her courses, with thought-provoking content and titles such as "Identities and Place," "Love and Labour," "Monsters, Freaks, Zombies, and Cyborgs," and "Race and Whiteness," incorporate experiential learning and allow students to complete projects that have impact well beyond the classroom. For example, in their "selfie projects," students reflect on the connection between identity and place, and in their upper years, they develop and deliver workshops and courses, creating knowledge for others as they themselves progress through their studies.
The only full-time faculty member in Diversity and Social Justice Studies, Dr. Braithwaite also serves as coordinator, having grown the program from a minor in women's studies to a ground-breaking major in the Faculty of Arts. As noted in Maclean's magazine, "Her influence has shaped women's and gender studies at universities across North America, both through her co-written textbook that radically redefines how we think about teaching introductory courses and as a highly sought-after reviewer for programs that want to redefine their curriculum. Both at her own university and beyond, she publishes, presents and gives workshops on rethinking the arts, decolonizing the curriculum, and embedding good principles for equity, diversity, and inclusion in our classrooms."
With several publications to her credit, including several books and articles in journals such as Feminist Studies, Feminist Theory and the Journal of International Women's Studies, Dr. Braithwaite is also past editor of Atlantis: Critical Studies in Gender, Culture, and Social Justice. She is the recipient of the 2014 AAU Ann Marie MacKinnon Educational Leadership Award, a 2012 UPEI Presidential Recognition of Merit Award, the 2008 UPEI Janet Pottie Murray Award for Educational Leadership, and a 2005 UPEI Hessian Award for Excellence in Teaching. She has been active in Women's and Gender Studies et Recherches Féministes (formerly the Canadian Women's Studies Association) for many years, including serving as its president from 2004–2006.
Dr. Braithwaite is the eighth faculty member at UPEI to be named a 3M National Teaching Fellow. Other 3M National Teaching Fellows at UPEI include Dr. Shannon Murray and Dr. Brent MacLaine, Department of English, Faculty of Arts; Dr. Brian Wagner, Department of Chemistry, Faculty of Science; Dr. Philip Smith, Department of Psychology, Faculty of Arts; Dr. Fiona Walton, Faculty of Education; and Dr. Etienne Côté and Dr. Sue Dawson, Faculty of Veterinary Medicine.
Congratulations, Dr. Braithwaite, from the entire UPEI community!