Your search has returned no results.
Kelly Yoo wins CVMA 2020 Student Leadership Award for AVC
Rewarding leadership and achievement in student affairs
| Atlantic Veterinary College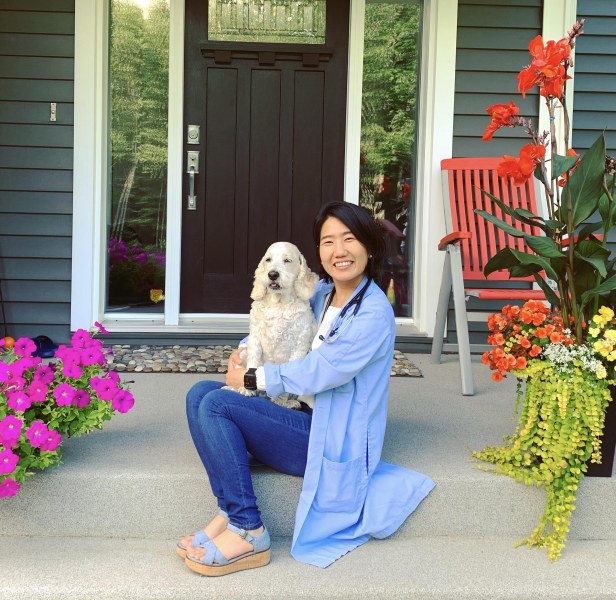 Congratulations to Kelly Yoo, Class of 2021, on winning the Canadian Veterinary Medical Association's 2020 Student Leadership Award for the Atlantic Veterinary College. 
Each year, the CVMA recognizes a third-year student at each of the five veterinary colleges in Canada with a student leadership award. The winners are selected by their classmates based on their leadership and achievement in student affairs.
Kelly was born in South Korea and moved to Moncton, New Brunswick, when she was 12. After completing elementary and high school, she attended Mount Allison University in Sackville, where she majored in chemistry and minored in Japanese studies. But in her fourth year, she realized she wanted to work with animals, people, and science, so she applied to the veterinary medicine program at AVC and was accepted. 
She has been involved in student life since she entered the program at AVC. She has been a class representative with the Society of Atlantic Veterinary Students (SAVS) since her first year and was president from 2019–2020. She is an alumna of the Veterinary Leadership Experience program. She has been a student ambassador for prospective student interview events, a co-chair in 2018 for the Class of 2022's orientation, and student representative for Zuku NAVLE Prep in 2019–2020. She has been involved in the student canine and health clubs, AVC's annual Open House, and the Dr. Tim Ogilvie AVC Vet Camp program. In 2019, she introduced Bamboo Yoo to the AVC Community when she dressed up in a panda costume and gave out free hugs during Health and Wellness Week.
When Kelly graduates from AVC this spring, she plans to return to New Brunswick to work in small animal general practice. One of her future goals is to volunteer to help families in a community where veterinary care would not be easily accessible.
 
Media Contact
Communications / AVC External Relations Officer
Marketing and Communications
902-566-6786, 902-566-0949