This page is more than 1 year old. Links and contact information may have changed.
Faculty of Arts pays tribute to the late Dr. Larry Clark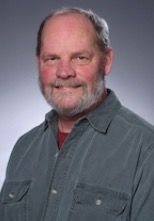 Dr. Larry Clark, a retired Economics professor and sessional faculty at UPEI, passed away December 30, 2020, at age 76. 
He started at UPEI in 1978 after completing his PhD at Simon Fraser University. Larry grew up the son of a US air force pilot, and did move around quite a bit over the years, living in places like England and Florida for a while. In Florida, he learned to surf, and in college, he played a bit of guitar with Stephen Stills. Larry was also an accomplished carpenter and potter. Above all, he was an engaging teacher and dedicated member of the UPEI Economics department for many years, and his contributions continued well beyond his retirement in 2009.
Dr. Jim Sentance, also a long-time member of the Economics department said, "Larry and I considered ourselves friends and not just colleagues. He was probably the most conscientious colleague I've ever had."
Dr. Neb Kujundzic, Dean of the Faculty of Arts said, "I think it is best to let Larry speak for himself in order to illustrate how much UPEI, and indeed the Faculty of Arts, meant to him. He emailed me the following words in mid-September 2020, in the midst of very challenging times, 'I know the days ahead are rocky. The git-go on all of this, is that there is a strong Faculty of Arts, right here. Each day, by our own example, not to mention our knowledge, we carry the stick forward. And there is no better job at a school, than to carry the stick forward.'"
Larry is survived by his father and sister in Florida. 
The flags at UPEI were lowered to half-mast in memory and honour of Dr. Clark. The entire UPEI community expresses condolences to his family, friends, and colleagues. 
 
Contact
Dr. Neb Kujundzic, Dean
Faculty of Arts