This News Story is more than 2 years old. Links and contact information may have changed.
Construction in St. Peter's Bay on track for 2021 completion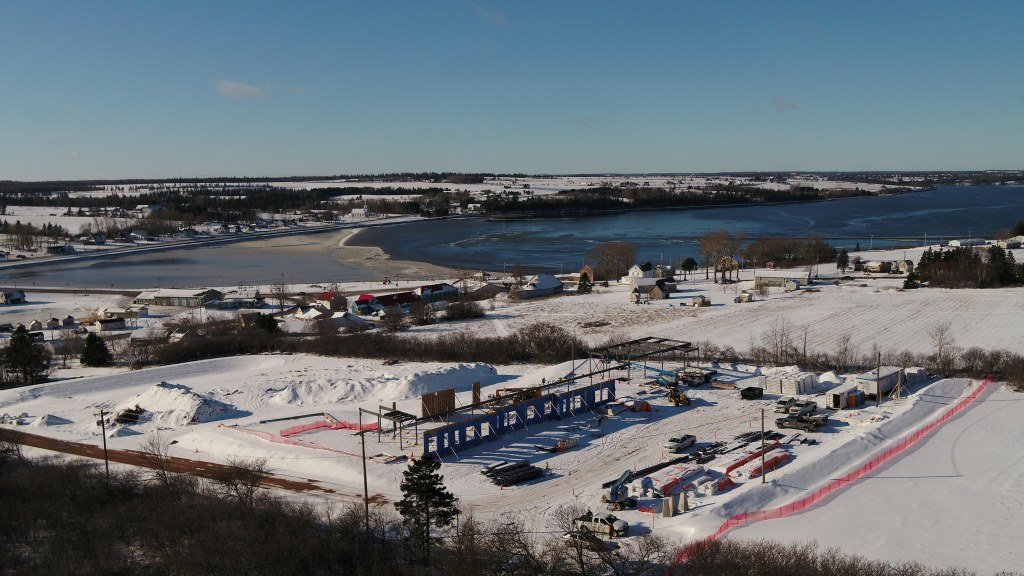 UPEI's Canadian Centre for Climate Change and Adaptation, which was announced on July 5, 2019, will serve as a living laboratory in St. Peter's Bay, PEI, allowing for unlimited access to nearby wetlands, forests, and coastal habitats directly affected by climate change.
Construction began in 2020, and has been continuing throughout the Fall and Winter.  

"UPEI is really pleased that we have been able to stay on track with our capital construction projects, despite the pandemic," said Jackie Podger, Vice-President Administration and Finance.
"In the case of the Canadian Centre for Climate Change and Adaptation, most of the preliminary site work, including the storm water management system and the foundation and footings, has been completed. The steel structural components are currently being erected, and the wood panels and beams have arrived and are ready to be installed. The remaining work on the project has either been tendered or is out for tender."
The 45,000-square-foot facility will house research centres of excellence, the UPEI School of Climate Change and Adaptation, and the UPEI Climate Lab. It will include research, innovation, and collaboration space; a residence for senior students and visiting faculty; the drone port (storage and repair space for equipment and UPEI's fleet of drones); and common areas designed to encourage interaction and integration of the research focus areas.

Podger added that, if the weather continues to cooperate, the Canadian Centre for Climate Change and Adaptation is on track to be completed in late 2021.