Your search has returned no results.
87 UPEI student-athletes achieve Academic All-Canadian status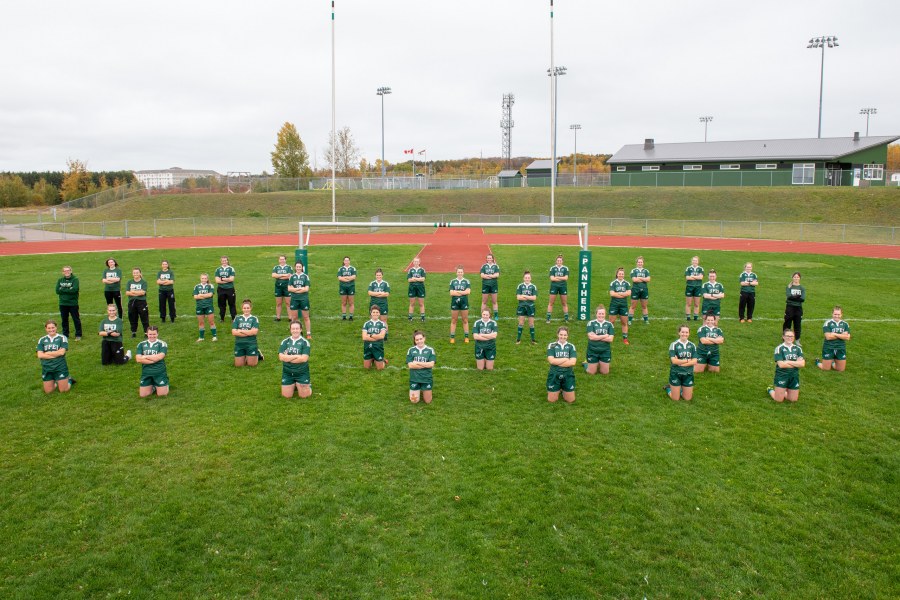 U SPORTS, the national governing body of university sports in Canada, gives special recognition to student-athletes across the country with an academic standing of 80 per cent or better. UPEI is proud to announce 87 of its student athletes in the 2019–2020 season have been named U SPORTS Academic All-Canadians. That's more than 43 per cent of the student-athlete population, and the highest number of Academic All Canadians at UPEI in a single year.
The record number also marks an increase of more than five per cent from 2018–19. Of the 56 universities comprising U SPORTS, UPEI ranks 11th for the proportion of Academic All-Canadians per student-athlete.
"As a UPEI Panther alumna, I understand the tremendous challenge it is to balance academics with athletics," said Jane Vessey, UPEI's director of Athletics and Recreation. "I congratulate all those who have received this recognition and all those who are striving toward it."
UPEI student-athletes continue to strive for excellence in sport, academics, and in the greater community. This level of academic achievement speaks volumes about their work ethic and the quality of the University's coaches, faculty, and staff, and its varsity programs.
Congratulations to all of UPEI's Academic All-Canadians!
Women's Rugby: Hannah Bertrand, Tara Campbell, Sophie Carragher, Maddy Clements, Agustina Cohen, Nicole Davies, Sophie Duguay, Mia Fradsham, Julia Freeburn, Dara MacInnis, Janel Mackay, Sarah MacLeod, Frances MacWilliam, Elizabeth McQuaid, Dayna Pitter, Madeline Shea, Lauren Spink, Kristi Stewart
Women's Soccer: Tyffanie Bordage, Laura Burge, Kamren Chaisson, Lauren Clark, Raine Easton, Sarah Eden, Madi Fisher, Amanda Isenor, Braylan MacEachern, Andrea Mahoney, Caitlyn McCloskey, Julie Ann Reid, Danielle Younker (also competes in track and field)
Women's Cross Country: Tatiana Kelly, Melanie Mitchell, Phoebe Mitchell
Women's Hockey: Ally Clements, Caroline Daoust, Nicole Gallant, Gabrielle Gray, Sydney Lyndon, Kristen MacIntyre, Mireille Martin, Shaylin McFarlane, Samantha Mintz, Jenna Pellerin, Camille Scherger, Tiah Scichilone, Sophie Vandale, Sasha Weekes
Women's Basketball: Annabelle Charron, Jenna Mae Ellsworth, Lauren Harris, Alexis MacInnis, Ashleigh Marshall, Madison Orser, Lauren Rainford, Reilly Sullivan, Sydney Whitlock
Women's Track and Field: Nathalie Lane, Gemma Shea
Men's Soccer: Colin Curran, Jake Deighan, Austin MacKenzie, Duncan Murray, Cohen Reddick-Stevens, Lucas Ross, Lars Colin Schmidt, Donovan Wyand
Men's Cross Country: Patrick Fletcher, Daniel Godfrey, Matthew Kozma, Daniel Maguire
Men's Hockey: Douglas Blaisdell, Owen Headrick, Chad Labelle, Noah Laybolt, Conor MacEachern, Jordan Maher, Kyle Maksimovich, Benjamin Parent, Nathan Yetman, Bobby Zinkan
Men's Basketball: Adam Ryan
Men's Track and Field: Ellis Blay, Noah Duckworth, Malcolm Gilman, Zach Wilson
Go Panthers Go!