Your search has returned no results.
UPEI's Dr. Olive Bryanton speaks at World Health Organization report launch
Baseline Report for the Decade of Healthy Ageing released on December 17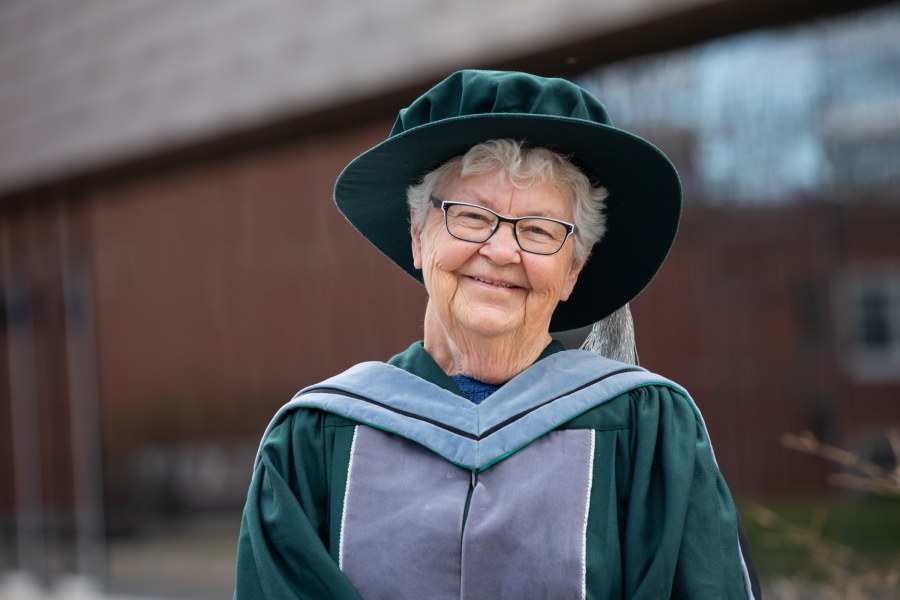 UPEI research assistant Dr. Olive Bryanton gave remarks at the virtual launch of the World Health Organization (WHO)'s Baseline Report for the Decade of Healthy Ageing, on December 17. One key finding in the report is that at least 14 per cent of all people aged 60 years and over—more than 142 million people worldwide—are currently unable to meet all their basic daily needs.
A long-time activist for seniors and a senior herself, Dr. Bryanton was invited to participate as a representative of older persons due to her research interests. Her 2018 PhD dissertation was titled, "Pioneers in Aging: Voices of women 85 years and older aging in place in rural communities."
"I was honoured to say a few words at the beginning of the event, and then had the opportunity to ask some questions of the people who were involved in authoring the report, to discuss next steps," said Bryanton. "It was truly a privilege to be among some of the leading minds on healthy ageing in the world for this important release of baseline data."
The Baseline report brings together data available for measuring healthy ageing, defined by WHO as "the process of developing and maintaining the functional ability that enables well-being in older age," and is intended for people working in government, academia, civil society and the private sector who make decisions that impact people's ability to live well in older age. More than 100 institutions and people contributed to the contents, including stakeholders in all regions and in multiple sectors.
"This report will serve as a useful reference against which we can promote learning across countries and measure progress towards healthy ageing during the next decade," said Dr Ritu Sadana, the lead author of the report and head of WHO's Ageing and Health Unit. "We will continue working with governments, other UN organizations, civil society and world experts, to improve evidence and information on all aspects of healthy ageing and support impact in countries. More comparable data will enable us to determine clearly the level of progress being made and identify areas where additional attention is needed."
The context for the Report is the commitment of WHO and the wider UN system to implement efforts to improve the lives of older people through the newly designated UN Decade of Healthy Ageing, 2021–2030. Optimizing "functional ability" is the goal of the Decade, which addresses five interrelated abilities that all older people should enjoy:  the ability to meet basic needs; to continue to learn and make decisions; to be mobile; to build and maintain relationships; and to contribute to society. The Baseline report presents the experience of countries which have been successful in starting healthy ageing initiatives in each of these areas, such as Ireland, Mexico, and Viet Nam. It also stresses that older adults must be engaged throughout. WHO will compile progress reports in 2023, 2026, and 2029.
Bryanton, who made headlines in 2019 after receiving her PhD at May Convocation at the age of 82, was also the focus of the CBC-TV documentary Never Too Old  that followed her as she worked to finish her research and defend her doctoral thesis. She received an honorary doctor of laws degree from UPEI in 2000, and was named to the Order of PEI in 2020. She currently works with co-investigators Dr. Bill Montelpare, professor and Margaret and Wallace McCain Chair in Human Development and Health at UPEI, and Dr. Janet MacIntyre, assistant professor, Faculty of Nursing, focusing on a patient-centered, community-based program to improve the delivery and outcomes of care for older adults with Type 2 diabetes and other chronic conditions.