This News Story is more than 2 years old. Links and contact information may have changed.
New Canada Research Chair appointed at UPEI
Dr. Caroline Ritter named CRC in veterinary social epidemiology
| Atlantic Veterinary College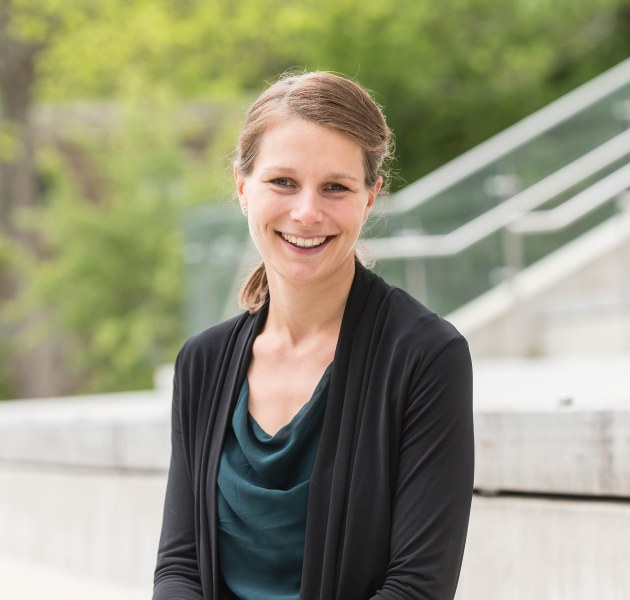 The University of Prince Edward Island is proud to announce that Dr. Caroline Ritter, Assistant Professor of veterinary epidemiology at the Atlantic Veterinary College, has been appointed Canada Research Chair (CRC) specializing in veterinary social epidemiology. Dr. Ritter is also the recipient of a John R. Evans Leader Award (JELF) from the Canadian Foundation of Innovation (CFI).
The Honourable Navdeep Bains, Minister of Innovation, Science and Industry, announced 260 new and renewed Canada Research Chairs on Wednesday, December 16, during a joint CRC-CFI announcement. The CFI, in collaboration with the CRC program, developed the JELF-CRC partnership to create competitive packages for the funding of infrastructure and research support at institutions.
"It is wonderful that research excellence at UPEI is being recognized by Canada's research funding program, and I congratulate Dr. Ritter on being awarded a CRC," said Dr. Katherine Gottschall-Pass, interim Vice-President Academic and Research at UPEI. "This Canada Research Chair is a very exciting addition to our research expertise at the Atlantic Veterinary College, and it presents many opportunities to advance knowledge about veterinary social epidemiology and improve animal health and welfare outcomes." 
Dr. Ritter received her Doctor of Veterinary Medicine (DVM) degree in Germany, later branching out into a career in animal health and welfare research. She completed a PhD at the Department of Production Animal Health, University of Calgary, in 2018, and held a Banting Postdoctoral Fellowship with the University of British Columbia's Animal Welfare Program from 2018–2020. She recently joined AVC to explore how improvements to animal health and welfare can be achieved through a better understanding of the decisions made by animal owners and custodians. Her work combines social science, veterinary epidemiology, and animal welfare research to bring forth new advancements in animal care best practice.
One aim of classic veterinary epidemiology is to determine risk factors that lead to disease in animals, said Dr. Ritter. Often, these risk factors are well known, and that information is being provided to animals' owners and custodians with the recommendation that they adopt best practices to increase animal health and welfare. However, these recommendations are not always followed due to a variety of reasons. 
Dr. Ritter is exploring animal owners' and custodians' attitudes and beliefs to investigate what motivators and barriers contribute to their decision-making. She is also investigating how veterinarians can become more successful at advising their clients by improving their communication skills to help put into practice the evidence-based knowledge that currently exists.
"My overall goal is to improve animal health and welfare by accounting for the 'human factors' in animal care," said Dr. Ritter. "This makes my research complementary to classic veterinary epidemiology, since both areas work to inform and improve implementation of best practices."
Thus far, she has concentrated on the dairy industry and how dairy farmers make decisions, but she plans to expand her research to other areas, such as equine health and welfare and veterinary mental health, an issue of growing concern in the profession.
"Dr. Ritter is a world-class researcher with expertise in veterinary communication, which is rare especially in the context of farm animals," said Dr. Greg Keefe, Dean of the Atlantic Veterinary College. "Her work as Canada Research Chair in veterinary social epidemiology will be key to helping those who own or work with animals understand the reasons behind the decisions they make and encouraging them to adopt best practices that benefit the health and welfare of their animals. Through her work, she will also contribute to the education of future veterinarians and the veterinary medical profession."
About the Canada Research Chairs Program
The Canada Research Chairs Program (CRCP) was established in 2000 by the Government of Canada. It stands at the centre of a national strategy to make Canada one of the world's top countries in research and development. It invests approximately $265 million per year to attract and retain a diverse cadre of world-class researchers, to reinforce academic research and training excellence in Canadian postsecondary institutions.
Chairholders aim to achieve research excellence in engineering and the natural sciences, health sciences, humanities, and social sciences. They improve our depth of knowledge and quality of life, strengthen Canada's international competitiveness, and help train the next generation of highly skilled people through student supervision, teaching, and the coordination of other researchers' work.
About the Canada Foundation for Innovation
For more than 20 years, the CFI has been giving researchers the tools they need to think big and innovate. Fostering a robust innovation system in Canada translates into jobs and new enterprises, better health, cleaner environments and, ultimately, vibrant communities. By investing in state-of-the-art facilities and equipment in Canada's universities, colleges, research hospitals and non-profit research institutions, the CFI also helps to attract and retain the world's top talent, to train the next generation of researchers and to support world-class research that strengthens the economy and improves the quality of life for all Canadians.