Your search has returned no results.
CFI supports green research at UPEI's Faculty of Sustainable Design Engineering
Infrastructure investment will develop new techniques for refining biomass into renewable, high-value resource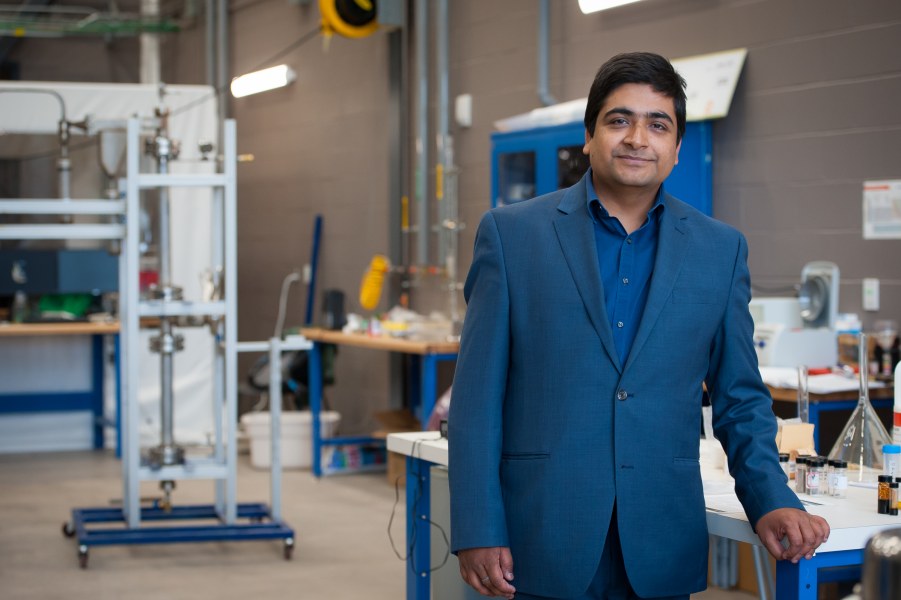 The Canada Foundation for Innovation (CFI) announced support through the John R. Evans Leaders Fund (JELF) earlier this year for research that originated at UPEI's Faculty of Sustainable Design Engineering. The funding, of more than $110,000, was awarded to Dr. Bishnu Acharya, who is refining techniques to turn low-value biomass into high-value products.
"Adoption of the circular bioeconomy approach for the utilization of low-value biomass will create valuable and sustainable bioproducts," said Dr. Acharya. "The support from CFI-JELF will help in developing material and chemical products for application in biopolymer, sustainable agriculture, and waste management."
Biomass from plant and animal sources has great potential as an abundant, renewable replacement for fossil fuels to produce chemicals, materials, and energy. But biomass has several obstacles (including high moisture and ash content, complex structure, and low density and energy value), which make it challenging to refine into a useable product.
Dr. Acharya's proposed research will look to develop a refining process to efficiently convert biomass to high-value products such as biocarbon, bio-stimulants, anti-oxidants, bioplastics, and others. The research would lead to the development of new green businesses in the area of biomass management, processing, and marketing the bioproducts.
While the funding was granted when Dr. Acharya was an associate professor with the Faculty of Sustainable Design Engineering, he has since accepted a post at another institution. However, Synapse has secured funding for a number of related infrastructure projects, valued at approximately $250,000, which will remain with the Faculty of Sustainable Design Engineering at UPEI.
"Dr. Acharya is an outstanding researcher with significant potential to advance clean technology solutions that our world needs," says Dr. Katherine Gottschall-Pass, UPEI's vice-president academic and research.
"UPEI is pleased that Dr. Acharya and the UPEI Faculty of Sustainable Design Engineering were recognized by the CFI John R. Evans Leaders Fund as well as through other grants to enable the research needed to strengthen the circular bioeconomy through product and process innovations that optimize biomass value over time."
The CFI's JELF program helps universities attract and retain top research talent from around the world by providing researchers with the highly specialized infrastructure they need to be leaders in their field.
"Support from the Canada Foundation for Innovation ensures researchers are equipped for success at every stage of their career," said Roseann O'Reilly Runte, the CFI's President and CEO. "The John R. Evans Leaders Fund helps Canadian universities, institutes, and research hospitals create the conditions necessary for their talented researchers to excel."