Your search has returned no results.
"We'll have a fantastic year regardless of whatever gets thrown our way"
Students and professors in UPEI's 2020–2021 BEd cohort reflect on learning in the pandemic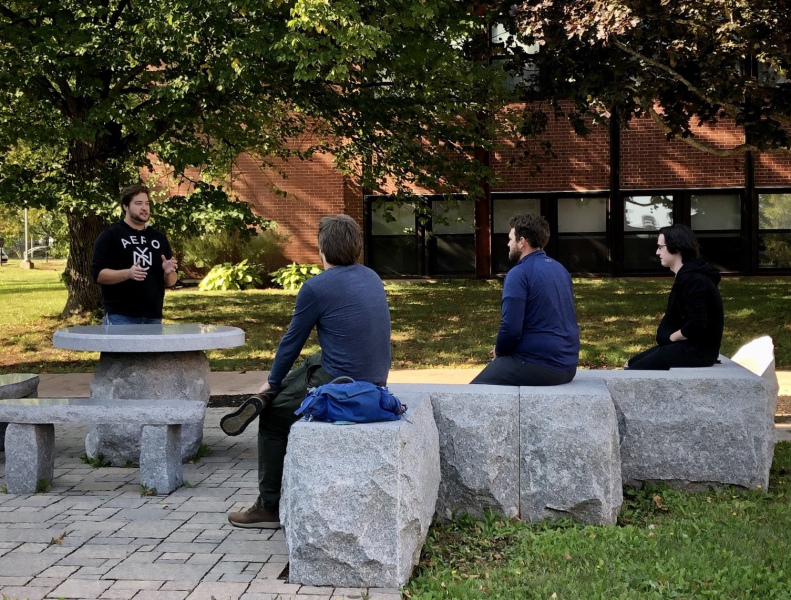 In early May, as the rest of the world was just getting used to the idea of life grinding to a halt due to COVID-19, one group of UPEI students was just getting revved up. UPEI's Bachelor of Education students earn their degree in a 12-month program, running annually beginning in May. The 2020–2021 cohort found success (and community) despite never having met face-to-face for the first four months of their program.
Dr. Carolyn Thorne, an assistant professor in the Faculty of Education, had big concerns before starting to teach this spring. "Going into this new era of teaching had me thinking about a number of things," she said. "How do I provide students with a positive experience in navigating their first course? How do I create a course that engages my students in learning while building relationships with one another online?"
She was also worried about the steep learning curve—for students and professors—with the technology being used. Her concerns began to ease as she watched the students working together.
"I was amazed at how well the class did navigating Zoom and Moodle," she said. "The students came together to support one another, especially during group assignments where they produced some very creative videos and presentations."
Student Teagan Pringle's concerns going in were similar. "I personally was primarily worried about potentially not having the opportunity to spend as much time in an actual classroom setting as the program normally would."
Pringle came to this program after being out of school for several years. She was looking forward to making friends and connections on campus. That happened in a much different way.
"All of the professors have been wonderful to work with and very understanding and supportive through every step of this new journey," she explained. "If nothing else, this pandemic and resulting circumstances have reminded all of us of the importance of coming together, as well as being flexible and open to new opportunities and changes—ideals that we will surely take with us as we enter our future careers as educators."
Student Allyson Saunders was planning to move from her home in Ontario to PEI to study. That all changed when the pandemic hit. She missed the community of physically sharing a classroom in the early months, but the group came together regardless of the distance.
"Our cohort is outgoing and very welcoming," said Saunders. "People have been intentional about getting to know each other both in class and outside. People on the Island are starting to connect on weekends. An example of the kindness of our class is a Facebook posting in our class group, where people offered to get groceries and support those who moved to the Island in September."
There are still many challenges ahead for the 2020–2021 cohort, but Thorne believes they are ready for them.
"They are a very caring, kind, and empathic group of students," said Thorne. "They are highly motivated and engaged in learning. They work hard and all want to do their very best work. I've loved getting to know them and am inspired by their enthusiasm to become educators."
The cohort did eventually come together in September and even lent a hand in Prince Edward Island schools helping teachers adapt to the first week of classes. On campus, Thorne has them working in small groups on practicum seminars to gain the hands-on skills needed in a classroom.
"If anything, I feel that it has honestly proven to us that no matter what gets thrown our way, as long as we are passionate and driven, we can succeed in the field of education. We still plan to have a fantastic year ahead regardless of whatever happens next. The cohort is a brilliant, diverse group of students who are truly going to make a difference in many young people's lives in the future. I'm so proud to be amongst such great students."
Note: One of the pre-service teachers participating in the class (not photographed) is Jack Malone, the son of the late Colleen Keefe Malone. The terrace in the photo was dedicated in Keefe Malone's honour in 2014. Keefe Malone was the first female to graduate with a Bachelor of Business from UPEI in 1971.