Your search has returned no results.
UPEI and Holland College announce modified format for varsity soccer season
Eight-game schedule approved for men's and women's play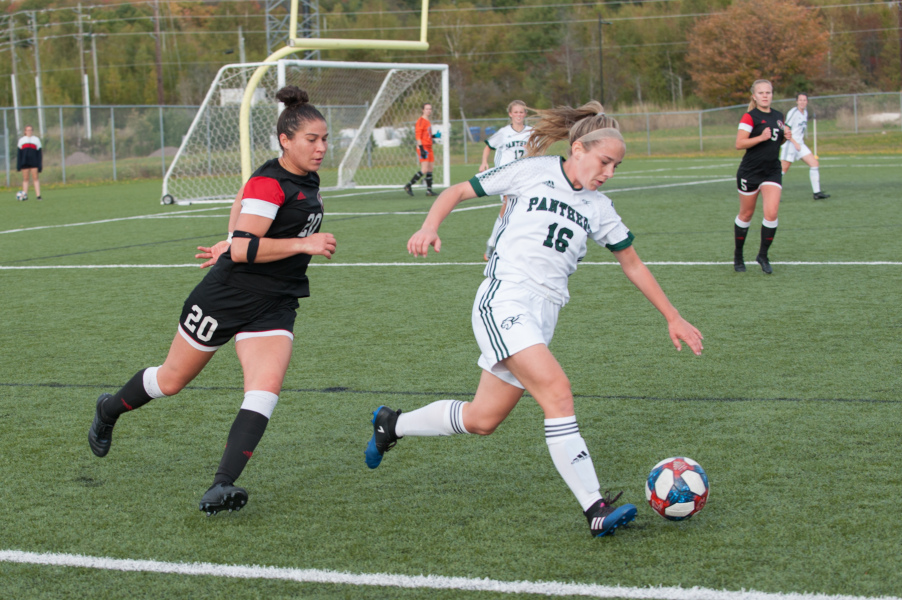 The University of Prince Edward Island and Holland College announced today that they will be co-hosting an inter-provincial varsity soccer league for both their men's and women's soccer teams. Earlier this year, the sport governing bodies for Canadian universities and colleges, U SPORTS and the Canadian Collegiate Athletic Association, suspended the varsity competition schedules for fall sports such as soccer due to COVID-19.

The two institutions jointly submitted a "return-to-play" proposal to the PEI Chief Public Health Office, outlining a modified format that incorporates several technical rule changes to lower the amount of contact between players and includes inter-provincial play only. The approved plan features an eight-game schedule for both a four-team men's and a four-team women's league. In addition to teams from UPEI and Holland College, each league includes the PEI provincial U17 team and a varsity alumni team, made up of alumni who played with either the Panthers or the Hurricanes. 

Lewis Page, head coach for the UPEI men's and women's soccer programs said, "UPEI Soccer is so grateful to have this opportunity to compete this fall. Being able to learn and grow against future and past varsity players will help so much in our preparations for the 2021 season."

Jonathan Vos, head coach for the Holland College men's and women's squads, added, "The importance that sport plays in social well-being has never been so prominent. The players and coaches are extremely excited to be able to participate in a league this fall. Everyone is looking forward to competing and testing their soccer skills. The league should be very competitive."

During phase one of league play, all games will be played in Cornwall at the Terry Fox Sports Complex, while during phase two, games will shift to the UPEI Artificial Turf Field, which is currently being used by the Canadian Premier League. There are detailed logistical plans for the arrival and departure of teams at the venues to ensure safety protocols are followed. No spectators will be allowed at the games in Cornwall, while having fans in the stands at UPEI is still to be determined. 

Student-athletes realize that this is a different type of season but are excited to hit the pitch for some high-level competition.  

"It means a lot to be able to play the sport I love again and be around the team. With the way this year has been, it's nice to get back to something that feels normal. I'm looking forward to a successful season with my fellow 'Canes'," said Daniel Martell, a second-year defender and Holland College Business Administration student from Eldon.

"Being a Panther is all about being a family, and sticking together no matter what. While there will not be a regular AUS season this fall, we are thankful and excited to be able to play the game that we love against high-performance teams here on PEI," said Lauren Clark, a fourth-year forward and UPEI Arts student from Charlottetown. "We are lucky to have such a committed group of players and coaches working together to make the most out of this fall. I can't wait to get the season started."

Games get underway Saturday, September 12, with Holland College Men's Soccer facing off against the men's varsity alumni team at 11:00 am, and UPEI Men's Soccer taking on the U17 provincial boys' team at 2:00 pm. On Sunday, September 13, Holland College Women's Soccer will play the women's varsity alumni team at 12 noon, and UPEI Women's Soccer will play the U17 provincial girls' team at 3:00 pm. All September games will be played at the Terry Fox Sports Complex. Visit www.gopanthersgo.ca or www.hollandcollege.com/athletics to view the full schedule.