Your search has returned no results.
UPEI and Benevolent Irish Society to launch digital PEI Irish oral history collection
Celebrating the cultural legacy of PEI's Irish community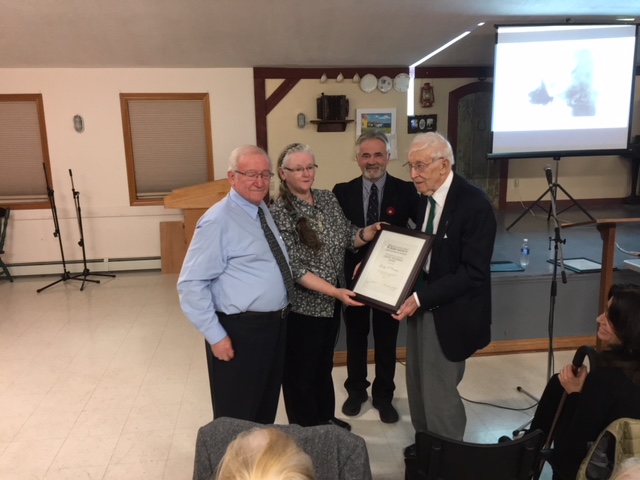 The cultural legacy of PEI's Irish community will be in the spotlight on Sunday, October 4, when the UPEI Robertson Library and the Benevolent Irish Society of PEI (BIS) co-host a public launch of a digital collection of oral history interviews and lectures. The launch will be held at the BIS Irish Cultural Centre, 582 North River Road, Charlottetown, from 2–4 p.m.
The Benevolent Irish Society Oral History Interviews collection consists of recordings of oral history interviews conducted by student researchers in 1982 and 1983 with elderly Irish residents on PEI. More than 50 hours of audio recordings are now freely available online at https://islandvoices.ca/islandora/object/ivoices:bis-interviews, thanks to a collaboration between the BIS and the Robertson Library, with funding support from the Government of Ireland's Emigrant Support Program. 
"The oral history project recorded scores of stories—and even some songs—from dozens of Islanders with Irish roots," said Mary Ellen Callaghan, President of the BIS, "and so much of it was so vivid and interesting, but it was all on audiocassette and very difficult to access." 
In 2018, the BIS received funding from the Government of Ireland, which provided project funding for the Robertson Library to digitize the tapes. The tapes had been donated to the Library some years ago by the late Dr. Brendan O'Grady, one of the organizers of the oral history initiative, and a long-serving faculty member at UPEI. O'Grady was also the BIS Patron for several years prior to his passing.  
"Robertson Library is pleased to have an opportunity to make another piece of its University Archives collection available online, this time through its islandvoices.ca digital audio platform," said Simon Lloyd, UPEI University Archivist and Special Collections Librarian. "It was really exciting when George O'Connor, a past president of the BIS, told me one day in the winter of 2017–2018 he had secured the funding to digitize the tapes—a long-standing dream of his. It is bittersweet to see the digitized recordings being unveiled now, since George passed away several months ago."
The transfer from cassette tapes to digital files was completed in 2018, but the audio quality on many of the cassettes was very poor, so the Library has provided detailed content descriptions of the interviews. This allows particular content, such as mentions of families and communities, to be found more easily through online searching.
Robertson Library also made innovative use of open source software to create "track listings" for the longer recordings, allowing listeners to easily jump to parts of an interview they particularly want to hear. Lloyd hopes the content stands as a tribute to O'Connor and the BIS, and their tireless efforts to honour and preserve PEI's Irish culture and heritage. 
He also noted that an upcoming part of the digitization project will be the release of recordings of lectures given at the BIS from 1987 to 2011 on Irish heritage and culture in PEI and in Ireland. Lloyd expects the digitized lecture recordings will be launched this coming winter. 
During the launch, the BIS will also open its newly catalogued library collection to visitors for the first time. The collection comprises more than 1,600 fiction and non-fiction books—from Irish, PEI, and Canadian-Irish history to plays, poetry, and travel books. Many of the books were donated by O'Grady; retired Justice George Mullally, current BIS Patron; and Michael Hennessey, an award-winning author and the first registrar of UPEI. 
This event is free, but attendance is limited because of the COVID-19 pandemic. Advance registration is required. To register, contact Paula Kenny at 902-629-0340 or kenny_paula@hotmail.com, or submit a message at https://www.benevolentirishsocietyofpei.com/copy-of-home, using "RSVP October launch" in the subject line.
 
Media Contact
Communications / AVC External Relations Officer
Marketing and Communications
902-566-6786, 902-566-0949