Your search has returned no results.
New PEI weather and climate change application launched
Great tool for weather watchers!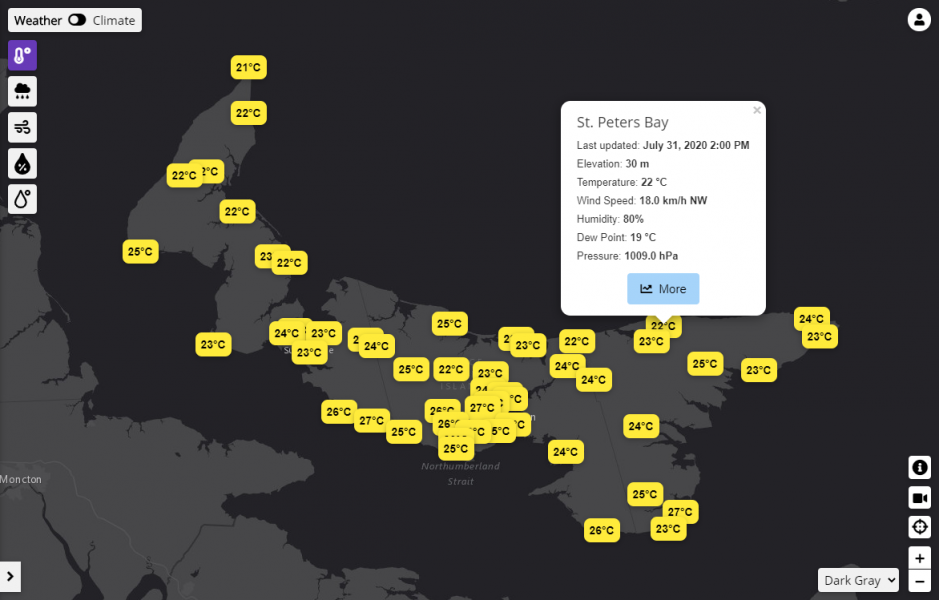 Get a group of Islanders together, and in short order, the conversation turns to the weather. Thanks to Dr. Xander Wang, assistant professor at UPEI's School of Climate Change and Adaptation, those conversations can be informed by real-time weather readings and historical climate data collected across PEI.
Wang has developed a web-based weather and climate application that gives real-time weather readings and historical climate data collected at about 60 weather stations located from North Cape to East Point. By using the weather toggle, weather watchers can find out about current weather conditions, including temperature, humidity, wind speed, and precipitation. By using the climate toggle, they can view the same information collected from 1872 to 2019. 
"PEI is a small place, but weather can vary widely across the province," said Wang. "There could be a severe thunderstorm in one area, but the sun is shining just a few kilometres away."
In the past, most of the weather information on P.E.I. came from six Environment Canada weather stations located across the Island. Wang's application gathers information from those stations as well as many others operated by the provincial government, the UPEI Climate Research Lab, and private individuals. He wants to increase the number of weather stations even further to collect as much real-time readings and historical data as possible.
The web-based application is designed to be used on a variety of computers, tablets, and smartphones. Since it was released two months ago, Wang has received emails from farmers and others indicating that they are very interested in using it to monitor immediate and short-term weather conditions. 
In the long term, Wang hopes that the application will useful in predicting climate change. The weather data collected will be used to validate a computer model with the goal of predicting future climate conditions across the island. A great deal of data is needed, so the collection will take at least five years. 
"The Island is particularly vulnerable to climate change," he said, "so it is vital that we develop the knowledge and tools to help us understand the process and mitigate the impact." 
 
Media Contact
Communications / AVC External Relations Officer
Marketing and Communications
902-566-6786, 902-566-0949