Your search has returned no results.
UPEI launches Gold Rush 50-50 fundraiser on the UPEI Panthers app
Play today and every week for a chance to win!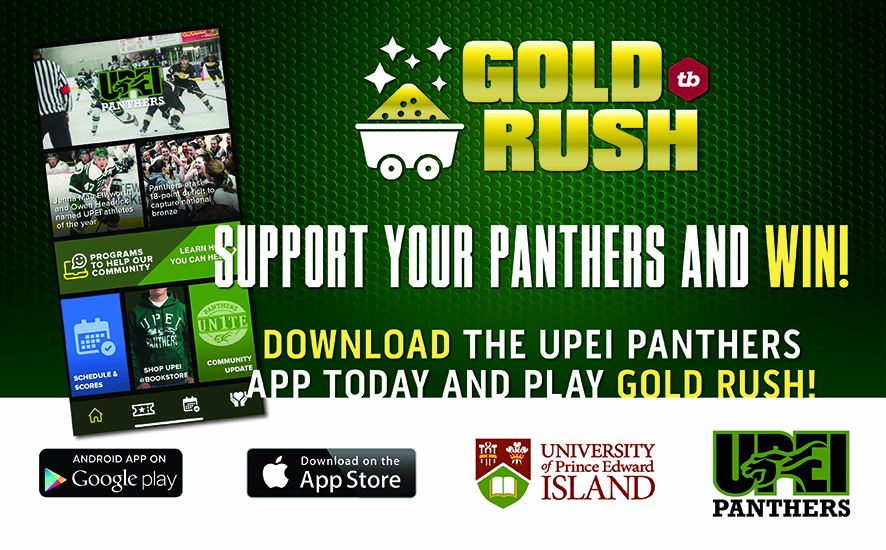 The UPEI Department of Athletics and Recreation has partnered with PEI-based Thinking Big Information Technology Inc. to launch the Gold Rush 50-50 fundraiser on the UPEI Panthers app. The first Gold Rush draw will take place on Saturday, August 1 at 8 pm.
Gold Rush is a virtual 50-50 fundraising initiative that will raise funds for UPEI's varsity and club sport programs as well as enhance recreational offerings that are available to all UPEI students.
"Gold Rush represents a great win-win opportunity. Members of the Panther community have an opportunity to win half the proceeds, while supporting UPEI students in achieving their high-performance or recreational sport goals, including winning and hosting championships," says Chris Huggan, director of UPEI Athletics and Recreation. "We are hopeful that the Gold Rush fundraiser will be key to the continued growth and sustainability of our high-level programming for years to come. I encourage everyone to download the UPEI Panthers app and start playing today."
"When we were approached by UPEI Athletics and Recreation about developing the UPEI Panthers app, we jumped in with both feet right away," says Joeanne Thomson, CEO for Thinking Big. "Many of our Thinking Big team members are UPEI alumni, so contributing to this initiative was a great chance to give back and support the Panthers by developing a new digital fundraising solution for them."
The fundraiser is unique in that instead of purchasing the 50-50 tickets in-person, UPEI Panthers app users can easily acquire three virtual numbered tickets for $5 from their device through a secure payment system. People can also play Gold Rush online (https://upei.goldrush.causable.io/) from their desktop computers.
Players can purchase up to a maximum 12 numbers ($20) for each weekly draw. A number will be drawn every Saturday at 8 pm for a total of 52 draws per year, and if a played number is chosen, the winner will win half of the jackpot with UPEI Athletics and Recreation receiving the balance (after costs). In any given week, if a player does not pay for their previously acquired number and it is chosen, the jackpot is not distributed that week and is carried over to the following week's draw.
In keeping with provincial lottery licensing terms and conditions, Gold Rush players must purchase tickets on Prince Edward Island and be 19 years of age or older. The UPEI Panthers app, which was launched earlier this year and features Panther Sport content and news, is available for download by users of all ages from the App Store for iOS-Apple devices and on Google Play for Android devices.
Play Gold Rush today and every week for a chance to win and support your Panthers—Go Panthers Go!
About UPEI Athletics and Recreation
The UPEI Department of Athletics and Recreation provides leadership in the promotion and delivery of competitive sport excellence and quality physical activity programs and services that enhance health, wellness, and a sense of community. UPEI's varsity sport programs engage high-performing student-athletes who are competing for AUS and U SPORTS championships in men's and women's hockey, soccer, and basketball; cross-country running; track and field; and women's rugby. Club sport programs also engage high-performing athletes who compete against universities from across Atlantic Canada. These programs include women's volleyball and field hockey; men's rugby; cheerleading; tennis; fencing; and equestrian. UPEI Athletics and Recreation also offers a wide range of recreational programs such as fitness classes and intramural leagues to UPEI students and the broader community.
About Thinking Big
Thinking Big Information Technology Inc. is a forward-thinking Prince Edward Island-based IT company, which provides digital products, tools, and consulting services that extends and advances their clients' capabilities and enterprises. Thinking Big has expertise in user experience design (UX), automation of services, artificial intelligence, information architecture, digital asset management, analytics and optimization, and mobile solutions.