This News Story is more than 3 years old. Links and contact information may have changed.
UPEI-led research team working to adapt hand-held mobile technology to detect COVID-19
Multi-disciplinary team awarded funding through CIHR's Rapid Call for Coronavirus Research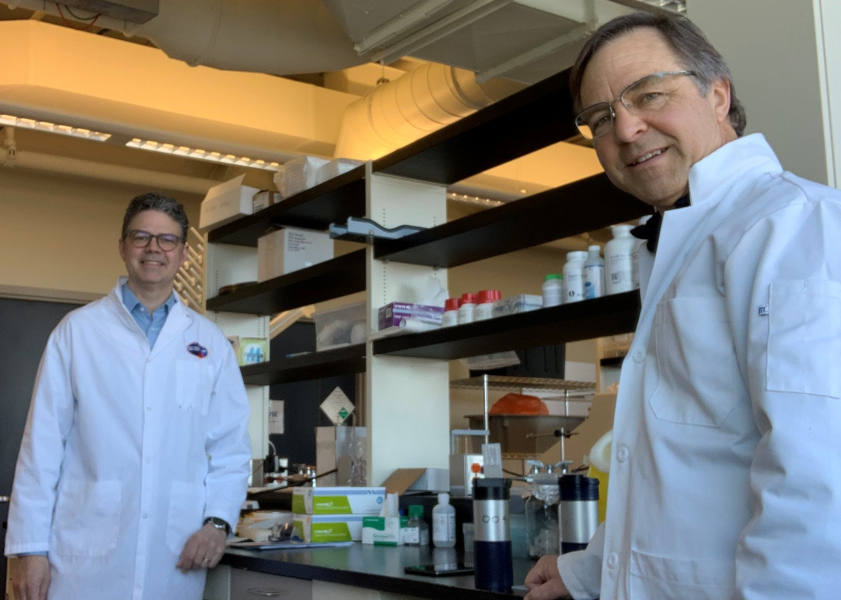 A research team led by the University of Prince Edward Island has been awarded a research grant from the Canadian Institutes of Health Research (CIHR) to adapt a hand-held, portable technology to detect whether someone carries the coronavirus responsible for COVID-19. The research team is co-led by Dr. William Whelan (Physics, UPEI) and Dr. Andrew Trivett (Sustainable Design Engineering, UPEI) and includes Dr. Marya Ahmed (Chemistry, UPEI), Dr. Javier Sanchez and Dr. Dan Hurnik (Atlantic Veterinary College, UPEI), Dr. Solke De Boer (Canadian Food Inspection Agency, retired), and Dr. Mark Redmond (PEI BioAlliance).
The patent-pending technology was developed by UPEI researchers for the detection of viruses in farm animals. Current methods to detect viruses require trained technicians to process samples in a central testing lab. The UPEI technology was developed to allow biological samples to be literally analysed anywhere—in a barn, field, or on a tractor—without pristine laboratory conditions. The researchers will apply this rugged LabAnywhere™ technology to detecting human diseases.
Since the call went out for applications to CIHR's Rapid Call for Coronavirus Research, COVID-19 has been declared a pandemic by the World Health Organization. The global need for reliable, rapidly deployable detection methods is more important than ever.
"We began developing this technology several years ago with the goal of helping farmers manage livestock and crop diseases better," said Dr. Trivett. "We are really excited to see our work enter the fight against this new threat to our communities."
"When we were notified of the award, I was in self-isolation, after being tested for COVID-19," said Dr. Whelan. "I received my test result, which was negative, two days later. With this funding, we will work hard to deliver an on-site, rapid test for coronaviruses, with results in an hour."
The research project will use easily handled, safe viruses from the animal world for initial testing to validate the methods and move to tests using human viruses once initial trials are complete. With support from Synapse, Innovation PEI, the PEI BioAlliance, and SpringBoard Atlantic, the inventors have created a spin-out company, Fieldetect Inc. to commercialize the technology.
Dr. Kathy Gottschall-Pass, UPEI's Interim Vice-President Academic and Research said, "COVID-19 is an unprecedented global public health risk. We are thankful to CIHR for expanding this important funding to allow our interdisciplinary research and development team at UPEI to test this diagnostic technology that will have an impact around the world."
This project is one of 96 across the country funded by the Government of Canada in rapid response to the COVID-19 coronavirus.
"The outbreak of COVID-19 evolves quickly, and protecting the health of Canadians is our priority," said the Honourable Patty Hajdu, Minister of Health. "The additional teams of researchers receiving funding today will help Canada quickly generate the evidence we need to contribute to the global understanding of the COVID-19 illness. Their essential work will contribute to the development of effective vaccines, diagnostics, treatments, and public health responses."
This research has been supported from its earliest days by Synapse and its partners in the Springboard Atlantic Network, the Atlantic Canada Opportunities Agency, and Innovation PEI. Synapse is UPEI's independently incorporated commercialization, technology transfer, and industry-engagement company, created to develop stronger links between UPEI research and industry sectors, to encourage exciting new levels of idea generation, technology evaluation, technology transfer, commercialization, and spin-off company formation. 
Since mid-2018, the Fieldetect Inc. team has benefitted from commercialization coaching by industry and regulatory experts at Emergence Bio-Business Incubator. Operated by the Prince Edward Island BioAlliance, Emergence pairs its clients with mentors who have a proven track record in related fields, and provides services designed to help companies like Fieldetect Inc. succeed in getting their products to market.