Your search has returned no results.
Jeff Collins selected for US Department of State leadership program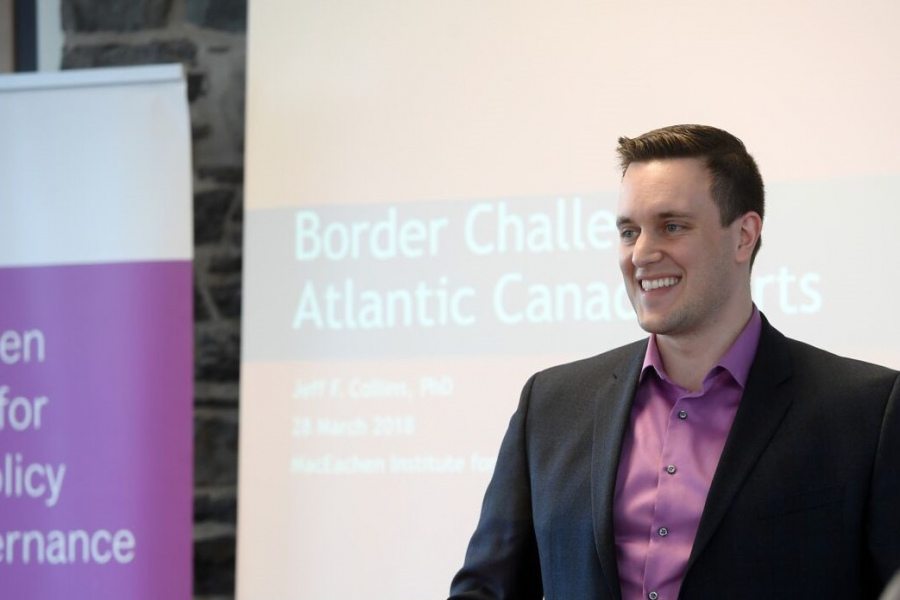 Dr. Jeff Collins, a lecturer in UPEI's Master in Global Affairs program, was selected this fall by the US Department of State for its International Visitor Leadership Program (IVLP). The IVLP is the US government's premier professional exchange program, involving short but intense trips to the US to meet government, academic, and community leaders. Applicants are chosen by US embassies and consulates and are matched with a program theme connected to their work.
Collins was selected for this two-week program on US foreign policy decision-making based on his track record as a lecturer at UPEI, his public commentary on Canadian defence and foreign policy matters, and his job as a trade policy advisor to the Government of Prince Edward Island. As the sole Canadian in this cohort, Collins joined 22 other participants from 16 countries. Participants worked in think tanks, journalism, foreign ministries, or other government agencies. 
The first leg of the program was in Washington, DC, in September. It featured meetings and tours of Capitol Hill where participants met with House Democrat and Senate Republican staff and advisors, the Pentagon, Gallup Poll, American Israel Public Affairs Committee, and others. The participants were broken into groups and assigned a separate state to visit. Collins went to Lincoln, Nebraska, where he met with the National Guard, the Nebraskan Secretary of State and Lt. Governor, Senate staff, farms, and a community activist group working on migrant workers' issues. 
It was not all work though, as Collins was made an "Honorary Nebraskan" by the Secretary of State, saw a college football game, and took in several tailgate parties, including one at the governor's mansion. 
After Nebraska, participants regrouped in Boston for meetings with foreign policy experts at Tufts University, Harvard, and Suffolk University, and with the foreign editors/journalists of the Christian Science Monitor. 
Congratulations!